Austin Actors Conservatory presents What is the Texas Dialect?
Start:
06/08/2014 - 8:00pm
End:
06/08/2014 - 11:00pm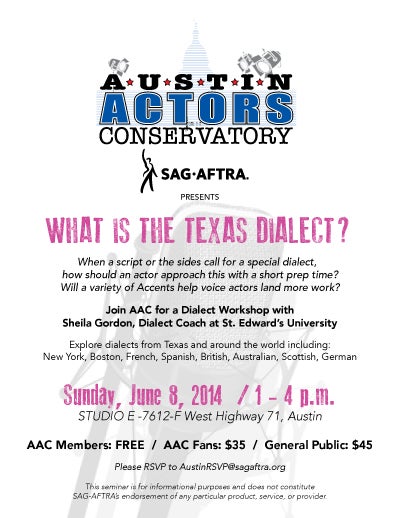 The script/sides call for a special dialect. How do you approach this as an actor on a short prep time?
 
What:  Dialect Workshop with Dialect Coach Sheila Gordon (St. Edward's University) covering dialects from around the world including: What is the Texas, New York, Boston, French, Spanish, British, Australian, Scottish, or German dialect?
When: 1 - 4 p.m. Sunday, June 8, 2014
Check-in begins at 12:30 p.m.
Where: Studio E
7612-F Highway 71
Austin, TX
Cost: AAC Members: FREE
AAC Fans: $35
General Public: $45
Please RSVP to: AustinRSVP@sagaftra.org
 
This seminar is for informational purposes and does not constitute SAG-AFTRA's endorsement of any particular product, service, or provider.