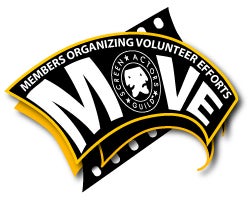 This seminar will help SAG members learn how to create their own home voice-over studio and explore its benefits and career–building opportunities. 
 
Learn about new technologies available now, get valuable tips on voice-over performance, and learn how Screen Actors Guild can help your voice-over career.
 
When: 7-9 p.m., Wednesday, February 2, 2011
 
Where: Screen Actors Guild
James Cagney Board Room
5757 Wilshire Blvd.
Los Angeles, CA 90036

RSVPs will ONLY be accepted by email.  You must receive and print a confirmation email in order to attend.  This event is open only to active paid-up SAG members and you must show your SAG ID (paid thru April 30, 2011). Only the first 75 people to RSVP will be accepted.  To RSVP, email movehollywood@sag.org.

Parking is validated and light refreshments will be served!