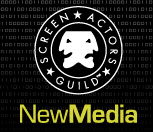 SAG New Media is a community sponsor of the following event:
Tubefilter Presents: Beyond YouTube
Wednesday, August 10
7 – 10 p.m.

Busby's East (Mid Wilshire)
5364 Wilshire Blvd
Los Angeles 90036
$7 advance tickets now available.
http://tubefilter.com/beyondyoutube

YouTube and its partner program have opened a clear path to online video monetization. And as we've learned from our panels this past year, building an audience on YouTube is crucial to a successful online video business.

But is that all that it takes?

Successful video creators are using YouTube to engage and monetize audiences elsewhere—from other platforms, to apps, merch, licensing, and beyond.

Join us as we explore just what opportunities lie beyond YouTube, and learn why YouTube may not be the be-all-end-all in online video, but rather an important component in a more complete online video business strategy.

To RSVP and for more details, click here.