The Official E-Newsletter of the Houston Branch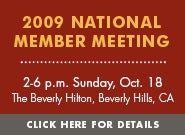 CURRENT TEXAS
PRODUCTION ACTIVITY

The Guild has been contacted by the following productions about becoming signatory to one of our collective bargaining agreements. These producers may not have completed the signatory process at this time. It is the responsibility of each member to confirm each producer has signed the applicable contract before making an agreement to render services. Failure to confirm the signatory status before rendering services may lead to disciplinary charges being filed. If you have any questions, please contact the office at (800) SAG-0767, ext. 7, or (972) 361-8185.

Friday Night Lights
NBC Studios, Inc
Start Date: 9/2/09
Location: Austin
Casting: Beth Sekpo 
info@bethsepkocasting.com

Jacob's Edge
Theatrical
Long Distance Freestyle LLC
Start Date: 9/15/09
Location: Dallas, Los Angeles
Casting: Nick Anderson 
swimbiz@mac.com

Cherry Bomb 
Ultra Low Budget
Strike Anywhere Productions
Start Date: 9/16/09
Location: Austin
Casting: Garrett Hargrove  
contact@cherrybombfilm.com

Pros and Cons 
Ultra Low Budget
Going Bats Entertainment LLC
Start Date: 9/25/09
Location: Irving, Texas
Casting: Scott Ross
(972) 877-6757
stross@goingbats.com

Beyond The Farthest Star 
Modified Low Budget
Pathlight Entertainment LLC
Start Date: 10/01/09
Location: Dallas/Ft. Worth

One In Three
Ultra Low Budget
Lagueria Davis
Start Date:  9/8/09
Location:  Norman, OK
Casting: Michelle De Long 
mdelong@me.com

The Cowgirl Chicks 
Low Budget Modified
Rodeo Films LLC
Start Date: 10/1/09
Location: Fort Worth
Casting: belshecasting@aol.com

Boggy Creek
Low Budget Modified
Boggy Creek Productions LLC
Start Date: 9/6/09
Location: Caddo Lake, Uncertain, TX
Casting: Brian Jaynes 
brian@brianjaynes.com

Trysts 
Low Budget Modified
Adulterers, LLC
Start Date: 10/13/09 
Location: Austin
Casting: Peter Yoder 
peter.yoder@bleutuna.com

Cameraman 
Low Budget Modified
Dixie Films Alpha Limited Partnership
Start Date: 9/24/09 
Location: Longview, TX
Casting: David Cole
dnc@dixiefilms.com

The Legend of Hell's Gate
Low Budget
4 Go West LLC
Start Date: 10/12/09 
Location: Granbury, TX
Casting: jay@michaelsonfilms.com

A Mind Of Its Own
Low Budget Modified
Speaking Productions LP
Start Date: 9/28/09 
Location: Dallas
Casting: Donise Hardy

Predators 
Theatrical
Predator Planet Inc.
Start Date:  9/8/09
Location: Hawaii, Austin

Los Scavengels 
Ultra Low Budget
Demetrius Navarro
Start Date: 10/2/09
Location: Dallas

FEELING LEFT OUT?

Projects and last minute production changes are happening 24/7. Knowing what's happening now or what's next is critical. Why wait for your agent to let you know about an audition? Sign up for TXSAGNetwork on Twitter and receive updates on the latest casting and production news as it happens. TXSAGNetwork –
it's the essential tool for the actor-entrepreneur, and it's a benefit reserved only for Texas Branch members.

ON THE SET

Many people refer to film and commercial sets as "floating factories." Incredible amounts of equipment and people show up at a location for a short time, only to disappear within a day or two. It's an amazing process with incredible focus and unlimited detail. A detail that is easily overlooked until it actually happens is injury or illness on the set.

Sets can be dangerous places, and even with safety procedures, a performer needs to know how to respond should an accident happen.  Medical treatment should be provided by your employer, who is required to maintain workers compensation insurance for everyone on the set. A medic and/or first aid must always be present when hazardous actions or hazardous conditions are planned. And the production company must arrange for your injury or illness to be checked out as soon as possible, which could mean a trip to the nearest hospital that can provide readily available emergency services.
 
The performer who has become ill or been injured on the set should report it to producer or first assistant director without delay. A written accident report will be made and sent to a responsbile state agency, and a copy will be given to you. The producer is required to send a written report to the Screen Actors Guild Stunt and Safety Department describing the illness or injury.

To avoid potential problems when a hazardous activity or stunt is required, it is important for a performer to carefully determine what is being asked by the director. Can the request be done safely or does it require the skill of a stunt performer? Have you given your consent after being informed of the hazardous action? Has there been a safety meeting with you, the stunt coordinator, the producer and others related to the hazardous action before the rehearsal? You can contact the Guild for assistance if you have safety concerns.

An injury on the set not only costs the performer in pain and suffering, but it costs the production as well. Better to be safe than sorry.

WELCOME TO OUR
NEWEST BRANCH MEMBERS

New Members: Jake Dallenbach, Wyatt Dallenbach, Kelley M. Huston, Esteban Petersen, Manny Rey, Leslie Hyland-Rodgers, Stefan S Sims, Jack Wallace
Transfers:  Lois Albez, Mark Allen Anderson, Liza Ashton, Elise Avellan, Rhonda Bates, Tom Booker, Kimber Lee Breaux, Luis Caldeira, Caron Colvett, Ann B Davis, Jaki Davis, Steven Derek, Rachel Flanagan, Allen Gilmore, Pam Green, Bill Hagy, David L. Homb, Roddy Hunter, Matthew Hurley, Bonnie Isaac, Jason B. Jacobs, Bernt Kuhlmann, Patrick Myles Kelly, Bill Kirchenbauer, Reid Kirchenbauer, Tom Lagleder, Meg Lugaric, Anne Mason, Sean McNamara, Cynthia Mirabal, Louis Monsour, Dan Montgomery, Tricia Moon, Jim Morange, Jill Pangallo, Gry Park, Jeff Peterson, Dylan Peyton, Lauren Rees, Karina Van Ron, Alejandro Rose-Garcia, Heather Scobie, Olga Sosnovska, Rowdy Stovall, John Strickland, Howard Timlin, Daniel V. Trefts,Taka Valentine, Shane Wells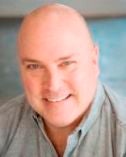 A Message from the Branch President
By Robert Nelson 
As we cruise into the fall season, it is an exciting time for the Screen Actors Guild Houston Branch. The TV/Theatrical and Commercials contracts have been approved. Other ancillary contracts are also being completed and approved. Regional Branch production has increased and shows no sign of slowing down, so we have much to look forward to.

It also was recently election season on the local and national level. Alan Rosenberg did not stand for re-election as president this year, and we now have a new national president, Ken Howard. All of the candidates were solid, well qualified individuals who care deeply about the future of SAG. The Houston Branch also had some council seats up for election. The current office holders were reelected, with the exception of board member Jason Douglas, who chose not to run. Jason has moved out of the Branch, and we wish him well. He is a talented and passionate person who did many great things for the Branch and we will miss him. In his place, I would like to welcome a new member to the council: Bob Boudreax. Bob is a well known local television personality and actor who will be a great asset to your council. Welcome aboard, Bob.

Your council has been working on several projects and two of the most promising are the Script to Screen programs and Houston and Austin conservatories.

The Script to Screen readings, which are held about once a quarter in Houston and Austin, have proved immensely popular. These staged readings of film scripts by up and coming and even well known writers are entertaining and provide great networking opportunities. I encourage everyone to submit a headshot and resume for consideration whenever you see a casting notice. If you are not in the readings, make a point to attend, they're free, and enjoy the chance to make some employer contacts.

The Houston and Austin conservatories are also gearing up for an official fall launch. We are putting the finishing touches on an agreement with a local college film school to host the Houston Conservatory and are looking for a similar venue in Austin. Our Conservatory will be supported by SAG and AFTRA, for members only, and we are actively working to make the conservatory a place where our members can not only hone their skills as actors, but pick up business and marketing tools. Like many other film schools, our schools in Houston and Austin will be completing SAG student agreements and giving members a chance to build their reels and to practice on-camera technique. Be looking for more information coming to you soon.

The economy is showing signs of turning around, and with contracts and incentives in place, Texas looks to become more competitive for the future. I look forward to the next two years.



The Magic of a Community
of Actors
By Marissa D'Onofrio
Houston Branch Member anjd
Script to Screen Team Member
Three years ago, I made the decision to relocate from Florida to Texas, in the hopes of further developing my career as an actress. With the talk of new, growing tax incentives in Texas, tax incentives already in place in Louisiana, a potential job opportunity with a Austin-based shopping channel and a growing resume, I felt strongly that this move was a step in the right direction.

After taking "the plunge," I began what I would call the "actor's acclimation process"—and by that I mean I signed with a Texas-based agency, I attended mixers, I enrolled in a weekly acting workshop and I went on auditions. I did all the things that a smart and dedicated actor does–network and meet others in the business—especially being someone who had moved to a new area. My hard work and dedication did pay off in several bookings, not only in the arena of feature films, but also with a television pilot for MTV, a regional SAG commercial campaign and even a national tour with Dallas-based author Dr. Sandy Gluckman, for whom I performed comedic, improvised scenes during her lectures to corporations around the country. From the outside looking in, I was doing everything right… So why wasn't I happy? Why didn't I feel like I was really doing everything I could to be a part of the acting community here in Texas?

When I lived in Florida, I made the decision to pursue a career in acting and became a part of something magical. I didn't study in a class that met once a week for six or eight weeks, but instead I spent every Monday, Tuesday, Wednesday and Thursday evening from 7 p.m. until 11 p.m. in the same little studio, with the same familiar faces, for FOUR years. It was in this studio that I learned a process of acting that I could take with me anywhere, but it was also in this workshop that I was blessed to have had the privilege to build many solid friendships with others who shared in the same dream. This sense of community, relationships not only built on a common interest, but relationships that developed outside of the studio, is what I felt that I was missing when I moved to The Lone Star State.

It wasn't until my recent experience with the Austin SAG/AFTRA Conservatory's "Script to Screen" program, co-founded and chaired by fellow actress Pamela Weaver, that I was finally able to put my finger on the missing piece. Even though I've lived in Texas for the last three years, primarily in Austin, (and I say "primarily because we ALL know actors are really gypsies in disguise), and even though I feel like I've been putting myself out there both on a professional and a social level, I never felt like "a part of the scene" here when it came to acting and networking. I never felt like a part of a community.

Becoming involved with the recent "Script to Screen" production and getting to know and work with a group of Texas-based actors who are professional, hardworking and also proud members of the esteemed Screen Actor's Guild was the missing piece that made me feel like a part of something magical again. Yes, it is important to possess self-confidence about what you are passionate about, and to believe in yourself and your talent as an actor, but to have the chance to work with others who share your passion, develop relationships with other actors who can relate to the joys, the frustrations and the pressures of the business, and most importantly to receive praise and respect from fellow actors, that is what generates the most satisfaction and truly helps to fuel my passion.
An Update from TXMPA
By Linda Dowell
The Texas Motion Picture Alliance successfully lobbied the Legislature to pass and fund the Texas Moving Image Industry Incentive Program. As a member of the TXMPA Board, I can report that our hard work, and yours, is paying off. Agents around the state report a spike in the number of auditions and the Texas Film Commission reports that over 56 applications arrived between April 23 and July 20–all good signs of success. Of those applications, commercial producers are really getting into the game with 33 applications followed by video game, feature film and television producers. With "Friday Night Lights" back in production, ABC committing to six episodes of "The Deep End" in Dallas, features headed back to the state and at least two networks eyeing Texas for series production, I'm certain Texas actors once again flourish in the spotlight.

Your SAG leadership has played a big part in TXMPA from day one. Be it the fantastic job Dallas member Hector Garcia did as the organization's inaugural president, the work Trish Avery does handling membership, the hugely successful Black & White Night event coordinated from the SAG office and my continued involvement on the Board, we have all recognized the importance of fighting for this key legislation.

It will be equally as important to grow TXMPA in size and influence as we prepare for the next legislative session. Without a continuing funding mechanism, any gains we make now will just as quickly dissipate.

If you are not a member of TXMPA, please consider joining today. If you are unable to join at this time, please donate $10 toward our efforts, as every dollar counts and we make wise decisions to focus on our core mission: bringing more business to Texas. I have set a personal goal of generating $1,000 for the organization in the next two months.

Shoot me an e-mail about your contribution if you are able to help me make that goal. It would be great to earmark those monies as a SAG contribution. If we all do our part, we will collectively reap the reward.

Thanks for your ongoing support.
Script to Screen Reads
Returning Champion in Austin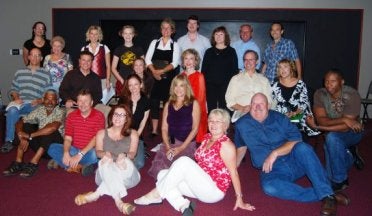 Back Row Standing: Pamela Kenny, Ada Lynn, Marissa D'Onofrio, Shea Weaver, Reis Myers McCormick, Phillip Rogers, Meredith Miniat, Joe Houde, and Michael Dalmon; Middle Row, Seated:  Vincent Doenges, Dennis O'Neill, Laura Clifton, Lynette Bennett, Peter Day, and Robin Early; Front Row, on floor:  Lloyd Barnes, Jr., Tommy Kendrick, Heather Scobie (Director), Pamela Weaver (producer/chair), Bert Kinyon and Mitchell Lance Adams; Front with legs crossed: Michele Gendleman (writer) and Ursula Ziegler (writer)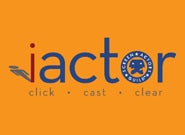 Get the Facts
• iActor is the only online casting directory exclusively featuring Screen Actors Guild talent—providing headshots, resumes, video and voice clips 24/7.

• iActor provides the best opportunity for Guild members to be seen by top-tier entertainment industry professionals, including casting directors, producers, studio executives and production companies.

• iActor is FREE to ALL Guild members and to the industry at large.

• iActor is the only online casting directory that offers Station 12 work clearance so industry professionals can source and directly clear SAG talent for work in SAG-signatory productions.

• Members may create up to seven professional resumes with ten headshots on each resume as well as sound files and video clips.  Sound files must be capped at 4MB and must be MP3, videos must be .MOV or .WMV files no more than 15MB.

Log in at SAG.org and click on the iActor link on the Member Services tab. Members may access online educational tools to assist them with iActor including a Quick Start Guild, User Guide and narrated tutorial. iActor's helpline may be reached via e-mail at webhelp@sag.org or via phone at (800) 724-0767.
Save the Dates
The TXMPA Spaghetti Western Fundraiser takes place at the Star Hill Ranch in Austin on November 1.

The next Script to Screen read in Austin will take place at Spiderwood Studios on November 14. Professional script submissions are accepted at any time through electronic submission only. (For more information regarding the Script to Screen program, contact Trish Avery at tavery@sag.org.)

The TXMPA Southeast Regional Fundraiser takes place in Houston at the Holiday Wrap Party on December 5.

The Houston Branch Membership Meeting will take place on Friday,
January 8, 6-9 p.m., at the Rainbow Lodge in Houston.