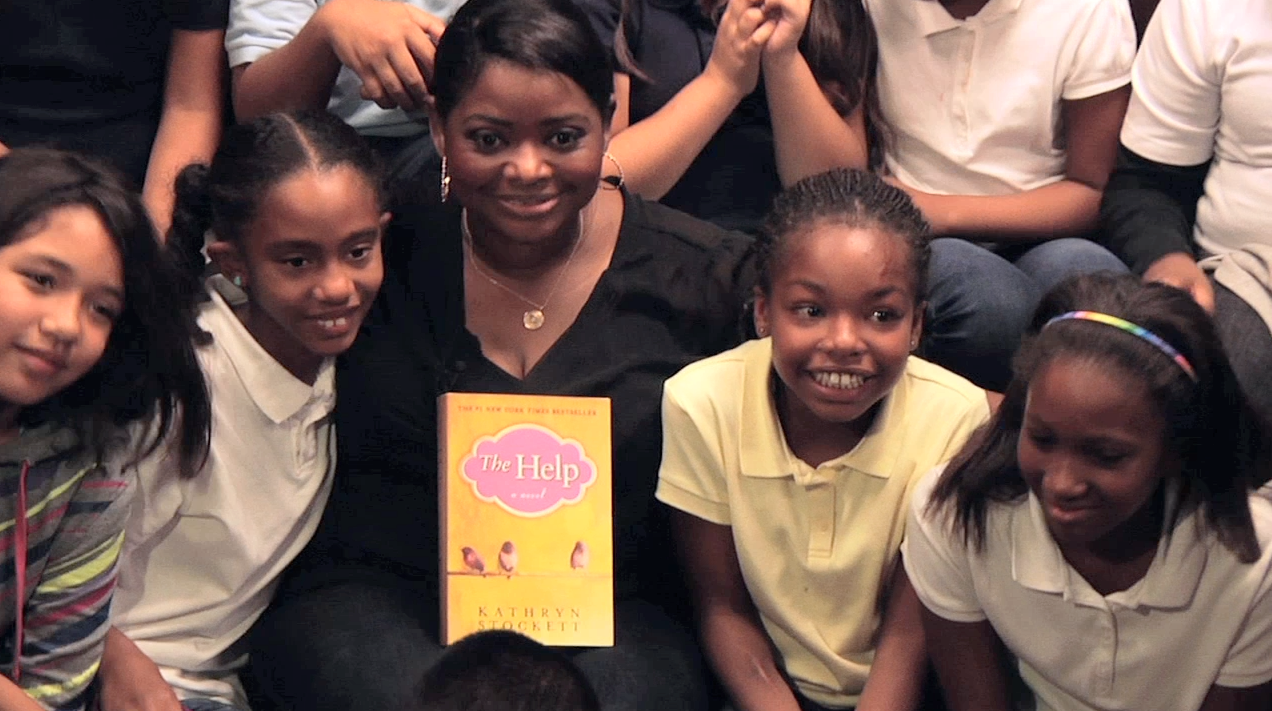 Octavia Spencer reads a book to 5th graders
at Crescent Heights Social Justice Magnet
through the SAG Foundation's BookPALS program
Los Angeles (October 27, 2011) – SAG Foundation, in partnership with SAG Awards®, brought Octavia Spencer to Crescent Heights Social Justice Magnet to share with 60 fifth graders the importance and excitement of reading. The entire school, 360 students, formed a red carpet for her from the entrance, around the playground and finally into the library.
 
The actress, who has been receiving praise for her recent role as Minnie in "The Help," read the book "The Three Questions" (John J. Muth, Scholastic) to an eager audience who listened as Ms. Spencer had them considering morality and universal truths. Though deep concepts for the 10 and 11 year olds, she was able to present these ideas with humanity and humor. She shared with the students her journey as an actress, the importance of finding what you love to do and why reading is so important.
Screen Actors Guild Awards will offer an autographed edition of "The Help" by Kathryn Stockett in the upcoming SAG Awards Holiday Auction at http://www.sagawards.org/auction. The book is signed by Viola Davis, Bryce Dallas Howard, Allison Janney and Octavia Spencer.
 
The Screen Actors Guild Foundation is dedicated to developing and sustaining programs that assist, educate and inspire actors toward their fullest potential not only in career and life, but also in community. The Foundation has championed the cause of children's literacy for nearly 20 years with programs that enlist the help of caring and talented performing artists to shine the spotlight on learning.
The Foundation's core literacy program BookPALS (Performing Artists for Literacy in Schools), was established in 1993 by veteran actress Barbara Bain (Mission Impossible). Together, Ms. Bain and the SAG Foundation were able to create a nationwide program that now serves more than 100,000 children weekly, with performing artists who regularly volunteer time and talent to read aloud to elementary school students at Title One schools, museums, cultural institutions, hospitals and homeless shelters. www.bookpals.net.
Click here for video.