March 19, 2009
GENERAL MEMBERSHIP MEETING NOTICE
When: Monday, March 23, 7–9 p.m.
Where: Studio One in the Musicians Union Bldg.
949 Kapiolani Blvd.
(limited parking)
Agenda: Business Meeting
Guest Speaker: Rachel Sutton, casting director for Lost
RSVP: bching@sag.org or (808) 596-0388, option 1
BRANCH PRESIDENT'S MESSAGE
By Glenn Cannon

As I am sure you are aware, the union leadership and the National Board has gone through a catharsis—a change of the national executive director (NED) and a newly constituted Negotiations Task Force is in place meeting with the AMPTP. It has been a difficult time, and it may continue to be so for a short period, but we think it to be the right move to have been made under the circumstances. The National Board now has a majority through members of the Regional Branches, the New York Branch and several Hollywood members. The interim NED is David White, a respected union man and lawyer, with senior adviser John McGuire as lead negotiator. John has been with the union for more than 30 years; he's an intelligent, knowledgeable individual who has been part of past negotiations and who brings a far more measured, reasonable stance to the table. We think there will be a positive resolution, and contracts will be agreed to and settled.

The Commercials Contract is a joint SAG-AFTRA affair, and hopefully those issues will be settled amicably with the producers.
NATIONAL BOARD MEMBER REPORTS
National Board Meeting
January 12, 2009

Last month I attended the National Board meeting as the alternate for National Board Member Jim Hutchison, who was unable to attend. As it turned out, it was a special board meeting. A majority of the meeting was in executive session to discuss TV/Theatrical contract negotiations and personnel matters.

As I write this, the AMPTP and SAG are meeting. Hopefully an agreement can be reached. Jim is unavailable to attend the board meeting and I am attending again as the alternate in his stead.

Scott Rogers
Recording Secretary
3rd Alternate Director

* * *

SAG Joint National Board of Directors Meetings
February 7, 2009

These special two-day meetings were called to address several immediate and serious agenda items. Saturday was a joint SAG-AFTRA board meeting. At this meeting, recommendations were made by the Joint Wages and Working Conditions Committee regarding proposals for negotiations of the following agreements: SAG Commercials Contract, AFTRA Television Recorded Commercials Contract and the AFTRA Radio and Recorded Commercials Contract. The next item on the agenda was the negotiating process. SAG and AFTRA agreed on presenting a unified approach.

February 8, 2009

The meeting was in executive session to discuss the personnel matters.

Lynne Halevi
Vice President
2nd Alternate Director

Note: Due to Jim Hutchison and Glenn Cannon's unavailability for these particular meetings, the 2nd and 3rd alternates, Lynne Halevi and Scott Rogers respectively, attended the meetings.

NATIONAL BOARD HIRES INTERIM NED, CHANGES CHIEF NEGOTIATOR
On January 26 the Screen Actors Guild National Board of Directors, by written assent, terminated the employment of Doug Allen, who served for two years as chief negotiator and national executive director of the Guild. In his place, the board appointed longtime Guild senior advisor John T. McGuire as chief negotiator and former Guild general counsel David White as interim national executive director.

The board also disbanded the TV/Theatrical Negotiating Committee and directed that it be replaced with a task force to complete the negotiations on behalf of the board of directors.

"This is a difficult time for Screen Actors Guild, and a particularly challenging period for working actors," said White.

"I am deeply committed to the Guild and its members, and I believe that, working with the National Board, we can help guide this transition."

Prior to rejoining the Guild, White was managing principal of Los Angeles-based Entertainment Strategies Group, providing consulting services to the entertainment industry.
SUPPORT THE EMPLOYEE FREE CHOICE ACT
Stand Up for Workers' Rights and Protect the American Middle Class

What may be the most important legislation for the workers in America was introduced March 10 in the U.S. House and Senate—the Employee Free Choice Act of 2009. If you are thinking this may not be relevant to you as a professional actor, consider the time frame in which television, motion pictures, commercials and new media productions are made. There is often a very limited production schedule and cast and crew members are employed for days and weeks, not months. The current process to organize workers to form a union involves a lengthy and convoluted process. We believe this is by design, so that employers have a longer period of time to dissuade workers and sometimes even engage in scare tactics.

Your work product can be on movie, television and computer screens long before cast and crew members would ever get to exercise the right to vote for a union. Meanwhile, non-union actors take your jobs. Our longstanding goal is to organize non-union productions via votes of the cast members. The Employee Free Choice Act guarantees every America worker's right to form or join a union by casting his or her SECRET BALLOT vote in a timely fashion.

The text of the bill is exactly the same as it was in the 110th Congress, when it passed the House but stalled in the Senate. At introduction, the bill currently has 223 co-sponsors in the House (only 218 are needed for passage in the 435 member House), and 40 co-sponsors in the Senate.

Since the House has the requisite number of co-sponsors needed to pass the bill, and it is a priority for the Obama Administration, the battle to pass the Employee Free Choice Act essentially will come down to a single vote in the United States Senate. Consequently, every Senate supporter not currently on board will be critical.

The timing on movement of the bill is unclear at this point. The Senate will vote first, with a summary House vote directly thereafter. Senate leadership is aiming for just before or just after the Easter recess. However, it is important to let your senator hear your voice on this issue now, in the days after the bill's introduction.
LEGISLATIVE REPORT
At the January 26 meeting, the Branch elected to support the following bills: Employee Free Choice Act, civil unions and any bills that repeal tax credits relating to Act 88 (motion picture, digital media and film production income tax credit). Thus far, all bills named herein have moved out of their respective committees. We have met with more than 20 legislators, one on one, to bring them up to date on the value of Act 88.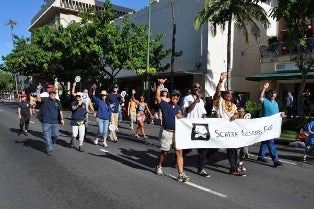 Scenes from this year's SAG celebration of the MLK holiday.
MARTIN LUTHER KING JR. HOLIDAY
By Becky Maltby

Hawaii Branch members formed a spirited alliance at the annual Martin Luther King Jr. Coalition Parade on January 19. More than 20 members marched the route from Ala Moana Beach Park to Kapi'olani Park, waving signs and carrying the SAG banner while entertaining the crowd with cheers along the way. Executive Director Brenda Ching is working on getting T-shirts available for purchase for participants.
COMMERCIALS NEGOTIATIONS
On February 23 members of the joint SAG-AFTRA Commercials Contract Negotiating Committee met in New York to begin negotiations with the Joint Policy Committee, the bargaining group representing ad agencies and advertisers. With only a few short, scheduled breaks since then, the negotiations were continuing as of press time.

The Joint National Board of Screen Actors Guild and AFTRA met on February 7 in a video conference plenary in Los Angeles and New York and approved by an overwhelming majority a package of proposals for the changes to the AFTRA Television and Radio Commercials Contracts and SAG Television Commercials Contract. The SAG and AFTRA Commercials Contracts is being bargained under the newly expanded Phase One Agreement that applies to the Commercials Contracts negotiations only.

The current contracts were extended from October 31, 2008, to March 31, 2009. In anticipation of these negotiations, an extensive Wages and Working Conditions process was conducted, during which members were invited to provide input.

Information regarding the commercials negotiations can be found on SAG.org. Check your e-mail and mailboxes for updates as well. Send your comments or questions to contracts2009@sag.org.
CONSERVATORY REPORT
By Scott Rogers
Conservatory Chair

The Hawaii SAG Conservatory will have an audition workshop taught by Scott Rogers on Tuesday, March 31. The last three classes filled up quickly. Once notification is e-mailed, sign up as soon as possible if you want to attend the class. More info on the workshop will follow in a separate e-mail. Also in the works, a voice class for actors, and we're working on bringing in a well-known teacher from Los Angeles to teach a class. Productions are shooting and if negotiations are settled we should see an upswing in new productions. If you get an audition for a good speaking role…are you ready?
ORIENTATION MEETINGS
New, rejoining or transferred members will want to attend an orientation meeting. At the meeting you get an overview of the Guild, information packets and the latest information on what's going on in the Branch area. (New members please bring your SAG membership packet to the meeting.)

Orientation Dates

2 p.m., Tuesday, March 24 at the SAG Hawaii Branch office.
2 p.m., Tuesday, April 14 at the SAG Hawaii Branch office.
2 p.m., Tuesday, May 12 at the SAG Hawaii Branch office.

Call the Branch office at (808) 596-0388 or e-mail bching@sag.org to RSVP.
PRODUCTION REPORT - CASTING FOR LOST
The television show Lost is casting. Rachel Sutton is casting principals, and Julie Carlson is casting background actors.

Phone: (808) 733-4015
E-mail: lostcasting@gmail.com for principals
lostcastinghawaii@gmail.com for background actors
REGISTER ON iActor
Members, don't miss out—register on iActor today. It's free and it's for you. More and more casting directors and producers are using iActor for their productions across the country. Go to SAG.org to register. If you need assistance, call (323) 549-6451or e-mail info@iactor.org.
IMPORTANT PHONE NUMBERS AND WEBSITES
General Information
(800) 724-0767

SAG Website
SAG.org

Pension and Health
(800) 777-4013
sagph.org

AFTRA/SAG Federal Credit Union
(800) 826-6946
aftrasagfcu.org

SAG Foundation
(323) 549-6708
SAGFoundation.org

Hawaii Branch Office
(808) 596-0388
bching@sag.org

Please alert us if you move or change your mailing address and or contact number(s). This may affect your prospects for securing work. All changes must be made in writing.

Please also make sure we have your e-mail address—if you are not listed with SAG, you are not getting the latest news on productions and what's going on with the Hawaii Branch. If you have changed your e-mail address, please send us your new one.
SAG TV
Have you checked out the latest SAG videos? Go to the SAG home page, where you can learn about setting up your iActor profile and how to become a SAG signatory as well as watch video from LGBT events. Click on SAG TV in the navigation bar for even more informational videos.

SAG TV is just one of the new beneficial features of the constantly improving SAG.org.
DUES REMINDER
If you haven't done so already, please pay your dues today. If you are not an active, paid-up member in good standing, you may not be able to vote in Guild elections or contract referenda or be eligible to serve on the council or committees. You also must be paid to date to register on iActor, the Guild's online casting program, which is now being used by casting directors nationwide. If you have any questions regarding your dues, please contact the Cashiers Department at (800) SAG-0767, prompt 2, or (323) 549-6752.
CONTRIBUTE TO THE SAG FOUNDATION
What is the Screen Actors Guild Foundation? The SAG Foundation is a non-profit organization dedicated to serving members and the larger community. The SAG Foundation provides numerous services to members, and is separate from the Guild. It has its own board of directors and executive director. The SAG Foundation's programs are funded through private donations, corporate gifts and bequests, not membership dues. The Hawaii Branch Board would like to solicit your support of the SAG Foundation by asking you to contribute whatever you can afford when you pay your SAG dues bill. No donation is too small.

Nearly every donor dollar in the SAG Foundation's budget is spent directly on programs benefiting members and the community, such as Conversations, BookPALS, LifeRaft, catastrophic health fund, internships for special students, legacy documentation, membership assistance and the John L. Dales Scholarship Fund. For more information on the SAGFoundation, go to SAGFoundation.org or call (323) 549-6708. Mahalo!
---

For address changes, removals, and misdeliveries, please follow the procedures at:
http://www.sag.org/Content/Public/Email_OptOut.htm