August 20, 2008
SAG HAWAII ANNUAL MEETING
**OFFICIAL NOTICE**
When: Monday, September 15, 2008
Light Refreshments, 6:30-7 p.m.
Business Meeting, 7-7:45 p.m.
Guest Speaker (TBA), 8-8:45 p.m.
Where: Ward Warehouse, Kaka'ako Room
1450 Ala Moana Blvd., Honolulu
RSVP: E-mail bching@sag.org or call (808) 596-0388. SAG members only.
HAWAII BRANCH PRESIDENT'S REPORT
By Glenn Cannon
I had hoped that this article would be in praise of the newly concluded negotiations and the new contract carved out by SAG. At this writing, that has not happened. I am now hopeful that by the time you receive this newsletter the contract will actually be in place and we can put those concerns away for the next 3 years. Obviously, that is where our thoughts are at the moment. With all the varieties of problems afflicting the U.S. at this time, and a vital national election only round the corner, we surely don't want screen actors to be left in the lurch regarding the contracts that sustain us. Of course, SAG has endured 75 years through a whole host of difficulties, and we will rise above these current circumstances as well, I'm sure. Keep the faith.
On another matter: It is very important that you realize that all of the information we send to you regarding casting and other things that may affect your employment is for SAG members only. It only hurts you if you forward these informational e-mails to people who are not members.
NATIONAL BOARD MEMBER'S REPORT
By Jim Hutchison
We had hoped that, by now, we would be working under a new contract with the AMPTP, but as of this writing, we are still in negotiations. We are across the table from a group which not only doesn't want to give, but wants to take back some of the gains we have made over the years. It isn't an easy task, but our negotiators are determined to bring us an acceptable contract.
In the meantime, we have a moment to reflect on our 75th anniversary.
Branches across the country celebrated the event in a number of ways. From a coat-and-tie big time evening to the casual party in the park here in Honolulu. Soon you will be able to view the documentary about the history of the Guild produced by the SAG Foundation. From the secret meetings held by courageous principal contract players who were determined to bring better working conditions to all actors, through the turbulent years, the fighting to be recognized and the negotiating of that first contract, up to Guild's current standing as the strongest actors union in the world is an impressive story.
Council member Pam Larson spoke at our picnic in the park and said it best. She told us that, like many of us, she had tried other careers, but when she became a member of Screen Actors Guild, she had joined a family and felt at home. The Guild is a family and, like a family, we have differences of opinion among family members. Sometimes some hard feelings and harsh words are thrown at each other, but we're a very special family able to come together when our family is attacked.
NEGOTIATIONS UPDATE
By Doug Allen
National Executive Director and Chief Negotiator
Your negotiators are working every day to successfully conclude negotiations for a successor agreement to our TV/Theatrical contract. We have not yet closed the gap with the employers' negotiators, but National President Alan Rosenberg, the National Negotiating Committee co-chairs from the Regional Branch Division, New York and Hollywood and I remain focused on this effort.
Right now, that involves small group meetings and exchanges with the employers, their AMPTP representatives and a core group of leaders in both organizations. Substantive progress is more likely in a less formal atmosphere. Negotiators can talk more productively, exchange ideas and define a short path leading to a conclusion. Informal communication is routine in labor talks and, in fact, occurred in other Guilds' negotiations this year.
The full committees and relevant staff of the AMPTP and SAG together number more than 100 people. This large group is extremely effective in framing the issues in negotiations, but unwieldy as we transition to focused, directed discussion. In fact, the full 100-member negotiating group probably will not need to meet across the table again until we shake hands over a deal.
You will no doubt read spin suggesting that there is dead silence between our sides. Progress doesn't have to occur directly across a table. Discussions through alternative channels are ongoing as we work toward a fair deal for actors as soon as possible.
Your interest in and support of the key issues like jurisdiction and residuals for all new media have been invaluable to our negotiations, as was the 68-0 vote of our National Board in the resolution of July 26, 2008. This unanimous vote from the board members who represent you in the Regional Branch Division, New York Division and Hollywood Division was a meaningful reaffirmation of SAG's unity. Solidarity by the SAG Board and SAG members sends an important, powerful signal to management that efforts to divide us aren't working and that actors are united on the issues.
We also know that you remain concerned about other key bargaining priorities such as, for example, product integration, force majeure, stunt performers and background actors' issues. Be assured that these and our other priorities continue to be in the forefront of our efforts on your behalf.
We will stay in touch with you to report on our efforts and hope that you will also stay in touch with us. Continue to e-mail your questions and comments to Contract2008@sag.org.
Thank you for your continued support and solidarity.
If you have not signed on to the Solidarity Statement in support of your SAG negotiators please do so today by sending an e-mail with your name and SAG member ID to Contract2008@sag.org.
Also, check out the list of more than 5,300 actors who have signed the Solidarity Statement. You can see the list by going to SAG.org and clicking on the Solidarity Statement box.
If you would like to read the white paper on new media -- "It's Not New Media, It's NOW Media," click here.
For a look at the National Board of Directors resolution in support of the Guild's negotiating team, click here.
HIT THE BOARDS!
By Becky Maltby
With our three-voucher system in play, many SAG members join the union with only background credits under their belts. This is fine if background work is your goal, but in order to land a speaking role, some acting experience is not just a good idea, it's an absolute must.
Give it up for live theatre—that golden opportunity we're always encouraged to embrace if we want to keep our chops up. It's time-consuming and it doesn't pay the bills, but for a good workout, doing theatre can be invaluable.
Do some research. Most theatre seasons are posted online with information about auditions. If you do audition and don't get cast, don't quit. The theatre world is very welcoming to first-timers and eventually you will.
What theatre expects from you: Ten to twelve weeks of commitment and firm professionalism. Most companies rehearse weeknights and occasional weekends for about six weeks, usually three to four hours per day, with shows running from one to six weekends. You do this for love, as most companies pay nothing or a small honorarium, which doesn't begin to cover the cost of gas. You're expected to be at every rehearsal you're needed at, unless you have a prior commitment that you've already cleared through the director at the beginning of the rehearsal process. (And there is usually no such clearance for performances.) You must learn your lines, blocking (staging), music and choreography (if the show is a musical of course), and take direction well.
What you can expect from theatre: Growth as an actor. The luxury of time in theatre allows one to take risks. Unlike a cold reading, the production process is often devoted to trial and error, finding what works not only for your character, but the show as a whole. Once the show opens, keeping fresh and focused night after night is a challenge actors should strive to master. And if nothing else, the friends you make—not to mention the networking possibilities—can last a lifetime.
Break a leg!
A SAD STORY WITH A HAPPY ENDING
By Chaz Mann
This story is about a member who joined SAG in the late 1970s. During that time, there were a lot of productions in Hawaii, and we all had the chance to experience working with big-time stars. The residuals were nice, and the camaraderie was like having a reunion every time SAG members were on the set. The ADs were always coming over to "shush" us because we were enjoying ourselves and craft services.
The reason for writing this article is to let you know there is a former traitor in your midst.
At a weak moment, this stupido accepted a non-union job and put himself in a limbo status, otherwise known as financial core. (Financial core is part of federal labor law, but what it really means is that you resign your union membership). He chose financial core because he thought there would be more jobs. More jobs, more moolah. That's what he was told.
Well, the jobs really didn't flow in. Once every so often, there was a little bone here and a little bone there. Imagine a puppy dog wagging his tail, slobbering. (Please let this guy be your example. If anybody tells you its okay to go financial core, tell him to stick it.) He even went to a SAG meeting and was escorted out because he was not a member. How embarrassing. What a learning experience.
Well, finally, he approached Hawaii Branch Executive Director Brenda Ching. She could have easily kicked him out and told him to contact headquarters in California, but because Brenda is Brenda, she did not. Nope, with a huge smile on her face, she asked him what she and SAG could do to help. He told her he wanted to become a full member of SAG again, with all the privileges of a member in good standing.
What do you think she did? Yup! But the story does not end here. There are conditions involved in order to reinstate, including letters and correspondence with a full investigation.
During the whole process, Brenda reassured him. Finally, Screen Actors Guild approved my reinstatement, and I am now your newest card carrying old Hawaii SAG member, Chaz Mann. Wow, what a journey!
PHOTOS FROM 'PARTY IN THE PARK'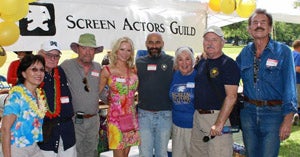 Members of the board and exec staff, left to right: Hawaii Branch Executive Director Brenda Ching, Hawaii Branch President Glenn Cannon, Council Member and Event Chair David Farmer, Council Member Pamela Larson, Recording Secretary Scott Rogers, Vice President Lynne Halevi, National Board Member Jim Hutchison and Council Member John Nordlum.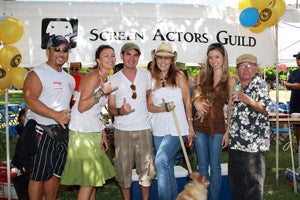 Members Joji Yoshida, Claudia Cox, Sean Douglas, Gina Saldania and guests at the anniversary party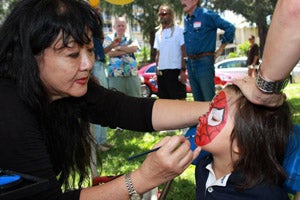 Board member Treasurer Mary Ann
Changg paints the face of Vincent Grillo --
a future SAG member? Photos courtesy
of SAG member Tony Grillo.
75TH ANNIVERSARY COMMITTEE REPORT
By David Farmer
Committee Chair
To join the nationwide celebration of the 75th year of our union's founding, the Hawaii Branch hosted members and invited guests, for a total of 130 people, at a picnic in Kapiolani Park on June 21. The beautiful Waikiki venue, under the shadow of Diamond Head, is a popular location for special outings and was formerly a horse race track in the days of the monarchy.
The Hawaii Branch received proclamations from Gov. Linda Lingle and Mayor Mufi Hannemann, honoring the milestone of the Guild's existence and its work in aggressively protecting the rights of its members. Oahu Film Commissioner Walea Constantinau presented the proclamation from the mayor, and Sen. Carol Fukunaga presented a plaque from the Hawaii State Legislature, acknowledging our 75th year and the contribution the Hawaii Branch has made toward growing the local film industry.
Hawaii Branch President Glenn Cannon welcomed all to the Party in the Park.
Friends and colleagues enjoyed our uniquely Hawaiian environment in solidarity and celebration that featured free food and refreshments, door prizes, which included anniversary items from thesagshop.com. Local member Claudia Cox supplemented our food resources with her hot dog cart. The members, their guests and families participated in a number of sports activities, including swimming in the Pacific Ocean 50 yards away from the SAG tent. This is Hawaii after all.
A good old-fashioned picnic time was had by all, thanks to the hard work of the committee members and Hawaii Branch Executive Director Brenda Ching. Special thanks go to SAG member Tony Grillo for taking wonderful photos of the event and council member Mary Ann Changg for her imaginative artistry in painting faces. Thanks also go to all of the other many member-volunteers whose hard work helped make the affair a truly memorable event.
CONSERVATORY REPORT
Join us as Frank South conducts a workshop for the Screen Actors Guild Conservatory.
When: Saturday, September 20, 2008
2p.m. - 5 p.m.
Where: Studio One at 949 Kapiolani Blvd. (Musicians' Association Building), Honolulu
Cost: $5 for conservatory members and $15 for SAG members who are not members of the conservatory. The cost is $15 a year (January to December) to join.
RSVP: E-mail bching@sag.org or call the office at (808) 596-0388.
Directions: Studio One is in the Musicians' Association Building, where the SAG office is located. To enter the musicians' parking lot, drive through the 909 Kapiolani condominium building. If you enter from the Kapiolani entrance, turn left after the stop sign and drive through into the musicians' parking lot. If you enter through the Waimanu St. entrance, turn right and drive through into the musicians' parking lot. If you are going up a ramp, you are going the WRONG way.
WORKSHOP SYNOPSIS: "Pretending for Real." A no-bull performance of any kind, on stage or on camera, is simple in concept but very difficult to pull off. In this hands-on, three-hour class, South will discuss his personal understanding of honest acting, offer some one-on-one coaching on getting there and assist you in recognizing some of the real rewards this approach to your work can give you. After all, if you're in this for fame and fortune, you're nuts. Please have a three-minute dramatic or comedic monologue prepared. Look for a short piece that means something to you, but do not select something you've written. Do think outside the box -- plays, novels, short stories... Have the piece memorized, and keep it to three minutes maximum.
About the instuctor: Frank South is a writer, teacher and actor. Two of his plays were produced and directed Off-Broadway by Robert Altman and filmed for ABC Arts. Frank wrote, produced and directed television in Hollywood for 20 years before moving to Hawaii in 2000 with his family. He now teaches creative writing to adjudicated at-risk teens at the Palama Settlement and has returned to playwriting and performing. A workshop production of his new auto-biographical one-man show Pay Attention, directed by Mark Travis, opens for the month of October at Scott Rogers' Academy of Film and Television before opening in L.A. in Spring 2009.
PRODUCTION REPORT
Lost starts principal photography on August 18.
Rachel Sutton is casting principals. Julie Carlson is casting background actors.
Contact Phone: (808) 733-4015
E-mail: lostcasting@gmail.com for principals
lostcastinghawaii@gmail.com for background actors
REGISTER ON iActor
Members, don't miss out. Register on iActor today. It's free, and it's only for Screen Actors Guild members. More and more casting directors and producers are using iActor for their productions across the country. Go to www.sag.org to register. If you need assistance, contact (323) 549-6451 or info@iactor.org.
ORIENTATION MEETING DATES
If you are a new member, are rejoining or have transferred here from another Branch, you may want to attend one of the following 2 p.m. orientation meetings at the SAG Hawaii Branch Office. (Please bring your SAG membership packet to the meeting.)

Tuesday, September 23
Tuesday, October 28
Tuesday, November 18
For more information or to RSVP, call the Branch office at (808) 596-0388, or e-mail bching@sag.org.
IMPORTANT PHONE NUMBERS AND WEBSITES
Pension & Health
(800) 777-4013
www.sagph.org
General Information
(800) 724-0767
SAG Website
www.sag.org
SAG/AFTRA Federal Credit Union
(800) 826-6946
www.aftrasagfcu.org
SAG Foundation
(323) 549-6649
www.sagfoundation.org
Hawaii Branch Office
(808) 596-0388
bching@sag.org

E-mail addresses – if you are not listed with SAG, you are not getting the latest news on productions and what's going on with the Hawaii Branch. If you have changed your e-mail address, please send us your new one.