The Official E-Newsletter of the Florida Branch
WELCOME TO THE
SUNSHINE SLATE

This quarterly e-newsletter gives you news and information about the Florida Branch of Screen Actors Guild. If you have any comments or suggestions with regard to the Sunshine Slate, please contact South Region Executive Julie Balter at (800) SAG-0767, option 5, ext. 7089, or via e-mail at julie.balter@sag.org.

FOLLOW US ON TWITTER
FOR YOUR NEXT CASTING

Florida members can now get up-to-the-minute information on local and regional castings, as well as SAG events by following us on Twitter at this link. Our for-Florida members-only site provides local casting information and notices to SAG members around the clock.
 
You can adjust your settings to keep your information "private," if you choose, and enable your mobile device to send the information directly to you. We are thrilled to offer this opportunity. Feedback is welcome at julie.balter@sag.org.

Sign up, stay tuned, and see you at the next casting.
ON WITH THE NEW
By Dan Fitzgerald
Former Florida SAG President and National Board Member

I've been a member of Screen Actors Guild for over half a century, having signed up in the Los Angeles office in 1957. 

When I was first asked to serve on the Florida Council Nominating Committee in 1980, our office was tucked into a small office building on Ponce de Leon in Coral Gables and staffed by Assistant National Executive Secretary and Florida Executive Secretary Mel Karl, Membership Director Dion Beebe, and then-Claims Representative Hollis Batchelor.

As an actor, I got my share of the $158 million that then–Gov. Graham claimed filmmakers spent in the state that year, and in 1982, I joined the council. I was elected vice president in 1984, shortly after the fortuitous addition of Leslie Krensky to the staff. I subsequently served three terms as Florida president and nine years on the National Board of Directors.

After nearly 28 years of service on the council, walking picket lines, serving on committees, countless hours in board meetings (some in New York lasting well after midnight), logging hundreds of hours and miles on airplanes, scheduling my life around SAG meetings, and scoring a few victories with the support of staff, such as semi-annual membership meetings (temporarily) to include Broward locations, establishing BookPALS and re-establishing conservatories, I'm ashamed to admit... I'm running out of gas... and just when the business is coming back to life.

Due to the efforts of our dynamic president and politically savvy vice president working with a dedicated and enthusiastic executive staff, our formerly moribund film industry is beginning to reemerge after an agonizingly long dry spell.

A talented and determined council stands ready to forge further advances and protect your professional future. I am proud and delighted to be succeeded on the council by a magnificent actor, a loyal unionist, a keen intellect and an old friend, John Archie.

Members of Screen Actors Guild, you're in pretty darned good shape. Your ship of state is under full sail and riding the waves of success.

A NEW INITIATIVE:
SAG MENTORING

By Santara Sidersky
Florida Branch Council Member

Think about the day you received your Screen Actors Guild membership card in the mail for the first time. You were excited and proud to have become a member of our union, acknowledged as a professional in the field that you love. Did you know very much about SAG rules, local councils, events, opportunities to participate in SAG conservatories? If not, a mentor would have helped you to learn about all these things. If, on the other hand, you had a mentor, you can remember how useful and reassuring it was to have had that relationship.

In order to serve our new members in a more comprehensive, direct and one-on-one manner, our council has concluded that we would benefit from a mentoring program. Therefore, we are eagerly encouraging our membership to participate in this initiative. Having a mentor engenders commitment to the union, creates enthusiasm to "spread the word" about the advantages of membership to non-members, provides awareness of resources and encourages participation in union activities, attendance at union meetings, and adherence to union rules. If we are going to have the Actors Corner, new members need to know it's there and how it can help them.

The mentoring relationship creates opportunities for mentors to directly answer the myriad questions that new members have – from how to choose an agent to what to expect on set. As a "member to member" relationship, mentors have the opportunity to encourage mentees to join iActor and participate in networking and workshop events. The relationship allows mentors to share their own experiences as well.

New members will be contacted by staff and told of our mentoring program and given the opportunity to request a mentor. Staff will then match a volunteer mentor with the new member. Once a mentoring relationship is established, the mentor can help the mentee feel welcome in the union by sharing how membership has benefited him or her.

Any SAG member who wishes to share his or her time, knowledge and experience as a mentor is encouraged to let the SAG office staff know. Any member who wishes to procure a mentor should let the staff know they feel they would benefit from having one. Since our region is so vast geographically, most of the communication between mentors and mentees will of necessity be by telephone and e-mail. An effort will be made to pair mentors and mentees in close geographic proximity, but no matter what, we will pair people no matter how far apart they reside.

Mentor Match Up

If you are looking for a mentor – or would like to join the growing list of mentor volunteers – please contact Eileen Neel at eileen.neel@sag.org.

A special thanks to the following members who have signed up as mentors so far:
Dave Corey
Nancy Duerr
Dan Fitzgerald
Steve Gladstone
Kevin Dean Hackett
Patrick Mickler
Phyllis Sidersky
Matt Simpson
Ellen Wacher


AGENT OF THE MONTH

Hey, Florida SAG performers! Are you represented by a terrific, franchised agent that you believe does not get the recognition that he or she deserves? Is your agent always there for you, guiding your career, advising you, watching your back, and generally being a mensch without much fanfare or praise? Well, now is your chance to change all of that!

Let us know why your agent is the best agent out there and he or she may be the next SAG Agent of the Month. Tell us (and the world) in your own moving way why your agent is special to you. And, if chosen, SAG will run a picture of your agent (and you!) celebrating your agent's star status as SAG Agent of the Month.

Mention this program to your fellow Florida SAG performers, and keep those letters coming. We will choose a different agent at the start of every month and feature the honoree on SAG's website for the world to see. With your help, your agent can finally get those richly deserved kudos!

Please send all entries by e-mail to agentquestion@sag.org, or by mail to SAG Agent of the Month, SAG Agency Department, 5757 Wilshire Blvd., 7th Floor, Los Angeles, CA 90036-3600. We look forward to hearing from you!

WOMEN'S COMMITTEE NEWS

By Ellen Wacher
Florida Branch Vice President

I am very happy to announce that the Guild's National Women's Committee is alive and very active. I am the Regional Branch Division chair and Florida Branch Councilors Allison McKay and Santara Sidersky also represent the RBD on this committee.

In March, I had the honor of speaking to New York Division members on the subject of women over 50 in the entertainment industry. I reported that there are currently more than 300 million Americans, of which 100 million are over 50. But very few advertising and marketing dollars go to this group – one major reason that work is so hard to find for performers in our age group. The National Women's Committee is actively working to change these prejudicial attitudes.

We are always looking for RBD members who want to actively serve. If you are interested in serving on the Women's Committee and would like to speak to me, please contact your local SAG office and arrangements will be made for me to get in touch with you.

DISNEY SHINES ON
JUNIOR BookPALS


Florida BookPALS is honored to receive a generous gift in Disney's Helping Kids Shine grant of $5,000 to launch a Junior BookPALS program for the 2010-11 school year.

Junior BookPALS, the SAG Foundation's service learning program, brings together students from disparate demographics, across grades and schools, giving high school performing arts students the opportunity to read aloud to and mentor under-served elementary students in low performing public schools.

Junior BookPALS students will be trained and placed in under-served elementary classrooms where they will read a new book each week, engage children in related literacy activities and donate the books they read to the classroom library. Junior BookPALS will be trained by professional actors and certified educators who are established members of the BookPALS program. The project encourages positive youth development by fostering adult-to-student and student-to-student mentoring relationships. Students engage in meaningful civic leadership activities that benefit the broader community and receive service learning credits for their volunteerism.

This collaboration teaches children from different walks of life how to reach out to one another, work together and equalize opportunities for learning, making our mutual world a better place.

There promises to be a ripple effect to the greater school populations, as well as to the families, as youth share their experiences and their enthusiasm for this project. There is also a strong likelihood that bridges will be built between teachers and administrators among the different communities. This desirable outcome occurred when the program was piloted in our Boston BookPALS branch, and it can be expected that greater communication and collaboration will continue to increase over the course of this full year project.

To learn more about Junior BookPALS, Florida BookPALS and PencilPALS programs, please contact Natalie Rogers at (321) 229-0638 or nrogers@sagfoundation.org, or you can visit bookpals.net. It's never too late to get involved in the foundation's literacy initiatives! Volunteer applications are available by clicking here.

PRODUCTION UPDATE

To find out about productions scheduled to film in Florida and the greater Southeast, click here to connect to the Florida home page. Remember, you must register with the SAG website in order to access this exclusive members-only information.
Get Involved!
Dear Florida Branch Member:

Every year, Screen Actors Guild reconstitutes its national committees. These committees are an excellent way to serve your fellow Guild members and to help shape Guild policies. In an effort to get as many members involved as possible, SAG staff have created the Committee Service Request Form, which lists the various committees and task forces and provides an opportunity to share areas of expertise. At the October 2010 Regional Branch Division meeting, your elected board members will use these forms to place members on the various national committees.

Committee service can require various levels of commitment. Some committees meet monthly, while some only meet a few times per year. All committee meetings are held via teleconference among members in Hollywood, New York and the Regional Branch Division. Committees also receive guidance and support from staff liaisons who provide handouts, agendas and information for the committees and also communicate between the committees and national staff.

Please fill out and return the form so that your voice can be heard and so that our Branch is fully represented. It is our Guild, and our involvement is the best way to make it serve us better.

Thank you for your service.

Steve Gladstone
Branch President
Save the Dates
For Events Across the State
South Florida

Cinema, Paradise and You:
The Real Deal on Your Acting Reel (and Everything Under the Sun About SAG in Florida)
When: Saturday, September 25, 9 a.m.-12:30 p.m.
Where: Cinema Paradiso, 503 SE Sixth St., Ft. Lauderdale
Click here for more information.

Membership Meeting, Movie and Mixer
with Special Guest Casting Director Ellen Jacoby
When: Monday, October 4
6 p.m. – Member Mixer
7 p.m. – Annual Membership Meeting and Movie
Where: Cinema Paradiso, 503 SE Sixth St., Ft. Lauderdale
Click here for more information.

South Florida SAG Awards Viewing Party
When: January 30, 2011
Details coming soon

Central Florida

Central Florida Member Get-Together
When: Friday, September 24, 6:30–9 p.m.
Where: Ember in Orlando
Click here for more details.

Central Florida Informational Meeting
When: Wednesday, November 3
Time: TBD
Where: The Plaza Cinema Café, Orlando
Click here for more details.

Central Florida SAG Awards Viewing Party
Details coming soon
Cinema, Paradise and You
The Real Deal on Your Acting Reel
(and Everything Under the Sun About SAG in Florida)
Cinema Paradiso * 503 SE Sixth St., Ft. Lauderdale * September 25/October 4

Join us on Saturday, September 25, for our first free public event for actors in Florida. Hosted by the SAG Florida Branch, the event includes a breakfast networker, presentations about the ins and outs of your acting reel, what casting directors and agents are looking for, and a valuable panel discussion with local working actors who have crossed over to Hollywood and New York markets. SAG staff will be on hand to answer any question you ever wanted to ask about our contracts and building your career.

Saturday, September 25 
9-10 a.m.
Continental Breakfast Networker - A valuable time to connect with fellow working actors
10 a.m.-12:30 p.m.
Cinema, Paradise and You – Demo Reel Presentation and Actors Panel
In a LifeRaft Live Stream event presented by Screen Actors Guild and Screen Actors Guild Foundation, you can empower yourself with helpful knowledge about making your own reel and making it work for you. Find out what casting directors and agents are looking for, what should be on your reel and how long it should be. The event will explore these topics and much more, including simple steps for using iMovie '08 and industry protocol for choosing your best material and uploading reels online. Part II of our presentation will feature a live panel of local working actors who can answer all of your questions about creating and maintaining a professional career in Florida, as well as inside tips about SAG and its contracts, and how to cross over into the New York and Los Angeles markets
Cost: Free
RSVP: Eileen Neel at (305) 670-7677, ext. 7079; (800) SAG-0767, option 5, ext. 7079; or eileen.neel@sag.org.

Monday, October 4 
6-9 p.m.
Membership meeting, mixer, and the movie Promises, starring an ensemble cast of Florida SAG members
Special Guest Speaker: Casting Director Ellen Jacoby 
Free film passes to Ft Lauderdale Film Festival, drinks and dinner for members
Cost: Free for the mixer and movie. The membership meeting and evening events are only open to members in good standing. Unfortunately, no guests are allowed. Parents/guardians of young performers under 18 are welcome. PLEASE BRING YOUR MEMBERSHIP CARD FOR ADMITTANCE (paid through October 31, 2010). 
Branch President's Report
By Steve Gladstone
As we come into the home stretch of summer and cross the line into fall we find ourselves with a healthy increase of projects across Florida. Our members are getting back to work with tons of films in Central Florida, two TV series in South Florida and more on the way. Our five-year film incentives have taken root and are bearing fruit quickly. Hopefully all of you have been feeling an uptick on your calls for auditions, and if not, it is an exceptional time to review your headshot – does it look like you on a good day? – and think about some of your methods of staying in touch with your agents without seeming pesky. An e-mail or a handwritten note for any bona fide reason (their birthday, an accomplishment, some press) are good ways to stay in touch. If you just attended a workshop recently, send your agents a brief note describing your one "ah-ha moment" take away from the class.

On another note, I'm honored that you all have entrusted the office of Florida Branch president to me for another term. And there's no better way to kick off my new term as president than with a member-to-non-member seminar in Fort Lauderdale on September 25 at Cinema Paradiso. (See the article above for more information.) We will be inviting actors who have worked our contracts but have not yet joined the Guild. We will be offering a seminar on producing a professional demo reel presented by top-shelf Hollywood casting pros. We will then sponsor a Q&A focusing on the theme that "when you do non-union work, you contribute to undercutting your own wages." We will strive to clarify that lower wages (which are uncollectable if an employer defaults on paying), no residuals and no benefits are hallmarks of non-union productions. These factors devalue the actor's worth. We feel it is most important to point out by accepting employment with non-union employers that the actor makes it possible for them to stay in business as non-union producers. If the non-union talent pool dries up, these producers are more likely to consider signing a SAG contract than to close shop.

I am jazzed about the prospects for our upcoming TV/Theatrical negotiations with the AMPTP. While I must remain in the Cone of Silence regarding our specific Florida Branch proposals, I can tell you that if passed, more money will be trickling into your pockets and into your health and pension funds from every bit of work you do on the set. I'm also buoyed by a cohesive national sensibility to a merger with AFTRA, which I think will be a major Guild focus once our TV/Theatrical negotiations have concluded.

We continue to have a lot to do, and I plan to stay the course. See you all at Cinema Paradiso for our annual meeting in October.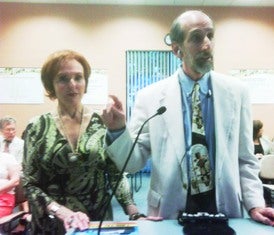 As reported earlier this year: Branch Vice President Ellen Wacher and Branch President Steve Gladstone testify about the importance of state film incentives before the Broward County Legislative Delegation.
Florida Members Rescue Work

Florida Branch members are returning to work, thanks to our freshly inked film legislation. The Entertainment Industry Financial Incentive Program, a five-year, $242 million transferable tax credit incentive, will stimulate production and sustain employment. "The new tax incentive was essentially legislated as a jobs bill," said State Film Commissioner Lucia Fishburne. "Television shows such as Burn Notice have been favorably impacted. Studio and independent motion pictures and commercials are anticipated to significantly increase as a direct result of our competitive legislation."
Senate Bill 1752 comes at a critical time. In the wake of economic crisis, last year's incentive was swiftly cut, resulting in an immediate – and, yes, desperate action from industry leaders to develop high-level lobbying strategies and organized grassroots campaigns. Florida SAG members and our local council played a pivotal role, initiating ongoing meetings with local legislators, covering county delegations and conducting communication campaigns by telephone and e-mail. SAG staff signed up to serve on every alphabet soup film coalition, travel to Tallahassee and coordinate additional outreach with our franchised talent agents and casting directors.

The results are already in. More than 550 applications were submitted for review, and anyone following the Florida Branch on our Twitter page has definitely seen the uptick in casting announcements. "Our substantial professional talent pool serves as a major draw for producers," said Fishburne. "We are most appreciative of the efforts of the Florida SAG Branch and members who worked tirelessly over the past year. We could not have achieved this far-reaching impact across the state without everyone's collective voices."

Julie Balter with Gov. Charlie Crist

We second that and would like to give a special thanks to Florida Branch Council Vice President Ellen Wacher for leading our initiative, and all of the councilors and members for their efforts. But as we move forward, it's important to keep in touch with our legislators, to protect our incentive for the coming years and acknowledge those who have reinstituted jobs. For more information about what you can do to keep our incentive in the forefront in order to protect our future, contact Julie Balter at julie.balter@sag.org.
Members Madeline Kern, Susan Bogusky and Ellen Wacher at Soyka.

Members Alex Rotella and Petrus Antonius with South Region Executive Dave Fazekas at the Rock-n-Sports Bar & Bistro.
SAG Members Connect Across State
What started with a few members gathering at a local bar in Orlando has turned into SRO network events across the state. Most recently, Miami members met up at Soyka, a great middle ground for everyone from Kendall to over the Miami Beach Causeways. In Tampa we hosted more than 65 member and industry folks at their premiere event held at the Rock-n-Sports Bar & Bistro.

Our South and Central Florida offices plan to hold mixers on a regular basis and will reach out to areas where it's not always easy to get to for a meeting. Yes, Palm Beach County, we've heard you, and we can't wait to meet up soon, so keep watching your inbox for more details.

To see more photos from these events, click here.
Steven Bauer with Florida SAG Business Representative Jackie Gadea at the Actors' Corner.
The Actors' Corner
A Complete Lab Center for Florida Members
SAG members now have one more advantage over non-union actors: The Clarence Thomas Actors' Corner. And everyone is using it, from emerging actors to established veterans like Steven Bauer of Scarface fame.

Conceived by your Florida Branch Council, the Actors' Corner is modeled after the SAG Foundation Actors Center. For members, and run by members, it offers a complete laboratory space including:
• Digital video recording equipment
• Wi-Fi computer lab including editing software, DVD and CD burner, scanner, and printer
• iActor tutorials
• Complete library of SAG Foundation Conversations DVDs (high-profile members speaking to SAG members about their craft) and LifeRaft DVDs (series addressing the business side of acting)
• And a lounge for rehearsing and running lines.

Volunteers are needed. We can't run the center without you.

Expertise: We're seeking skilled members to assist with camera recording and editing, including teaching a seminar on how to edit and send audition reels online.

Resources: Donate books or DVDs on the industry.

To volunteer or book a block of time for your personal use, please contact Membership Coordinator Eileen Neel at (800) SAG-0767, option 5, ext. 7079, or eileen.neel@sag.org. 
Contact Us
Have a question about contracts, talent agents, your dues status? Need to file a claim? The Florida Branch Office is here to answer your questions and assist.

Screen Actors Guild Florida
7300 North Kendall Drive
Suite 620
Miami, FL  33156-7840
Ph: (800) SAG-0767 option 5
Fax: (800) 844-5439

E-mail: For a list of e-mail addresses, click here.

Twitter: SAGFLBranch@twitter.com
New Members and Transfers-In
New Members: Alondra Almudena, Brannon D. Cross, Brent Lang, Chris Guokas, Daniel Abeles, David A. Steele, Esteban, Huguette Lafond, Isis Valdes, Israel Perez, Jeni Perillo, Jillian Kinsman, Johanne Marie Maurasse, Jordan Wall, Juan C. Hernandez, Julia Springer, Karolina Kurkova, Kathryn Newton, Kevens, Kevin Wayne, Kevin Edward Morgan, Leslie Maine, Lorraine Ziff, Lyduan Gonzalez, Lynn Moore, Lyric Wallenda, Michael Drinan, Michael Roark, Nikolay Nadyalkov, Nina Vincent, Paloma Marquez, Pamela Almand, Patricia A. Fox, Pedro Anaya Perez, Ray Eddy, Richard Haylor, Shannon Elizabeth Cornale, Sope Aluko, Tess Soltau
 
Transfers-In: Aleksandr Bernhard, Andrew Craghan, Antares Davis, Antonino LoGiudice, Barbara Kennard, Barbara Siegler, Boris Kievsky, Brandi Merich, Bruce Blauer, Bruce Cornwell, Catherine Roberts, Chris Majors, Cindy Iglesias, Clark Taylor, Clark Tucker, David E. Cruz, David Elias Ornston, David Hart, David J. Thomas, Deleon Richards, Diana Van Fossen, Dianne Velez, Drea Harris, Elan Barram, Elena Varela, Elias Stimac, Elizabeth Perry, Ernesto Miyares, Frank Caero, Gaetano LoGiudice, Garrett Knight, Gene Murrell, Geoffrey Sherman, Gyn Leschinski, Hardy Rawls, Heather Kraft, Hilary Rose Zalman, J. Robert Presley, Jackie Joyce Price, Jamie Day, Jane Solar, Jasmine Sais Burgess, Jay Garcia, Jean Vomy, Jennifer Mathie, Jessica Alyce Merrill, Jessie Weissman, Jo Ann Pflug, Joelle Ashley Barchan, John Graham, John Lyon Posson, Johnny Joel Price, Joyce Remeny, Kathrin Rein, LaTangela Missy, Newsom, Laura Marks, Leah Cary, Lisa Lucas, Lynne Miller, Matthew Courier, Michael Tracy, Michael Winslow, Natalie Ferrara, Olga Pavlova, Patricia Lanza, Patrick Robert Kelly, Patsy Dougherty, Paul A. Froehler, Radovan Madic, Randolph Le Roi, Rhona Fox, Richard Steadman, Robert Curtis Wright, Roberto Marrero, Roger Dane, Saadia Persad, Sarge, Sean Collins, Seth D. Miller, Shari Douglas, Sharon L. Simon, Sheffield, Suzanne Eleanor Benson, Taso N. Stavrakis, Thauro, Thomas Moretti, Ti Hays, Timothy Alvaro, Trinity, William H. King, Yamil Piedra
Discounts from Local Dentists
Altamonte Dental Associates Inc. is pleased to offer local SAG members a 15 percent discount for all dental services and Smile Design Studio is offering local SAG members up to a 20 percent discount for select dental services at their respective offices. Both of these special discounts are also extended to family members.

Smile Design Studio
1331 S. International Parkway
Suite 2271
Lake Mary, FL  32746
Attn: Dr. Mark Falco
Phone: (407) 804-0770

Altamonte Dental Associates
195 S. Westmonte Dr.
Suite 1112
Altamonte Springs, FL  32714
Attn: Michelle Oliver, Office Manager
(407) 774-8834

Click here for more details on these discounts.

Note: All Deals & Discounts are administered by entities independent of SAG. Questions about each offer must be handled by the providers. The Guild does not endorse any of these services.