The Official E-Newsletter of the Florida Branch
WELCOME TO THE
SUNSHINE SLATE

This quarterly e-newsletter gives you news and information about the Florida Branch of Screen Actors Guild. If you have any comments or suggestions with regard to the Sunshine Slate, please contact South Region Executive Julie Balter at (800) SAG-0767, option 5, ext. 7089, or via e-mail at julie.balter@sag.org.

FOLLOW US ON TWITTER
FOR YOUR NEXT CASTING

Florida members can now get up-to-the-minute information on local and regional castings, as well as SAG events by following us on Twitter at this link. Our for-Florida members-only site provides local casting information and notices to SAG members around the clock.
 
You can adjust your settings to keep your information "private," if you choose, and enable your mobile device to send the information directly to you. We are thrilled to offer this opportunity. Feedback is welcome at Julie.balter@sag.org. Sign up, stay tuned, and see you at the next casting.

NATIONAL BOARD SEEKS
ENGAGEMENT WITH AFTRA

Screen Actors Guild National Board of Directors voted January 31 to seek engagement with AFTRA in a joint bargaining agreement for negotiation of the Television/Theatrical Contract. Approved 82 to 18 percent, the resolution states:

"It was moved and seconded that in light of SAG's historically productive negotiating partnership with AFTRA, the SAG National Board of Directors directs President Ken Howard and National Executive Director David White to seek engagement with AFTRA in a joint bargaining agreement for negotiation of the Television/Theatrical Contract, under the terms of Phase One, modeled on the agreement used successfully in the 2009 Commercials Contract negotiations. President Howard and NED White shall bring a recommendation to the National Board at the earliest opportunity."

Screen Actors Guild President Ken Howard said, "I am very pleased with the vote and thank the Board for their leadership and foresight on this important issue. I so appreciate the Board's cooperative spirit in this discussion and throughout the day, and feel confident that our Guild is moving in the right direction."

In other actions, the National Board voted unanimously to create a National Performance Capture Committee to address the unique concerns and experiences of members who render performances that are recorded using "performance capture" technology across all media, and to advise the Guild on all matters pertaining to work in this rapidly growing area.

The board also approved 83 percent to 17 percent the unanimous recommendation of the finance committee to authorize the extension of existing initiation fee reductions in targeted markets across the country and to have the Guild's Joint Strategic Planning Committee and Finance Committee review the initiation fee structure nationwide.

For more details from the meeting, click here.

GET 15% OFF
DENTAL SERVICES

Altamonte Dental Associates Inc. is pleased to offer local SAG members a 15 percent discount for all dental services at their office. This special discount is also extended to family members. If you would like to take advantage of this opportunity, please call Altamonte Dental Associates Inc. directly and make sure to identify yourself as a SAG member.
Altamonte Dental Associates
Michelle Oliver, Office Manager
195 S. Westmonte Dr, Suite 1112
Altamonte Springs, FL 32714
Phone: (407) 774-8834
Fax: (407) 774-8362
Click here for a map.
Questions? Please contact SAG South Region Executive David Fazekas at (407)788-3020 or (800) SAG-0767, option 7, or e-mail him at david.fazekas@sag.org.
Note: All Deals & Discounts are administered by entities independent of SAG. Questions about each offer must be handled by the providers. The Guild does not endorse any of these services.
NEED TO FIND YOUR
W-2S? WE CAN HELP!
Members who may be missing W-2s for checks received on behalf of SAG employment and residuals can contact SAG for assistance. If you need contact information for an employer, please call Linda Isrel at (800) SAG-0767, option 5, extension 7088 or linda.isrel@sag.org.
PRODUCTION UPDATE:
BURN NOTICE IS BACK!
To find out about productions scheduled to film in Florida and the greater Southeast, click here to connect to the Florida home page. Remember, you must register with the SAG website in order to access this exclusive members-only information.

SAG.ORG UPGRADES

Our website has improved once again. More content-packed and user-friendly, the recent upgrades to SAG.org help you get what you need immediately, while keeping pace with the technology that the world uses to communicate.
News and Knowledge Right Away

With a refreshed home page design, the news that matters most to you is positioned front and center. Be up-to-the-minute on SAG National Board decisions that may affect your life as a working actor, learn about changes to your contract, plan to attend upcoming panel discussions and networking opportunities that could help you land work, and receive member alerts that protect your interests by warning against scams or other career pitfalls. We take away the uncertainty that you'll miss out by making this information the first thing you'll see.
Volumes of Video, Courtesy of SAG TV

In addition to a featured video at the top of the new SAG.org home page, you're also one click away from the improvements to the SAG TV section of the site, which includes access to our always growing archive. You can search content by subject matter groupings, based on your interests. Convenient icons even give you a preview of what you'll see, and a new expanded video viewer allows for high-quality widescreen viewing.
Easy Access to SAG's Social Networks

SAG knows the importance of social networking to you. As another new convenience, you can follow us on Facebook, Twitter, RSS and with a new iPhone app. Simply click the icons on the left side of the home page.
Producers' Center – One-Stop Convenience

Meeting your needs is important, and so is meeting the needs of our employers. After all, improving their online experience makes it easier for them to create work for Guild members! Everything a producer needs to work with SAG is available in one place in our new Producers' Center. There, anyone who wishes to make any kind of SAG project, for any platform, can find all of the resources needed to do so. Rate sheets, sample contracts, FAQs and more – it's all conveniently accessed via the home page.
Tell Us What You Think

All of these changes would not be possible without SAG National Executive Director David White's commitment to enhance the union's communications capabilities to match or exceed industry standards, the vision of our Guild Website Subcommittee and feedback from  our members.
Let us know your thoughts at sagcommunications@sag.org.

A FRIDAY WORLD
By Jan Godown Annino
Children's Book Author, BookPAL and PencilPAL

(reprinted with author's permission)
 
I don't know what the children's yesterday was like away from school
nor can I guess about their tomorrow
but in this moment of their morning -
some Fridays of
September
October
November
December
January
they turn faces up
with great expectations
 
Children waiting to receive
what Mr. Armstrong sings about–
 
"…a wonderful world."
           
The Screen Actors Guild Foundation's literacy programs are paths for me to bring "a wonderful world" to young students in Florida. As a PencilPAL, I mentor a fourth-grade student and encourage both letter-writing and artwork on paper about books. As she writes:
 
"… no wonder you are good pals."  
 
BookPALS is also the path for me to bring to two classes, which serve multi-grade learners, a lively, no-cost presentation from an author who loves to read rhymes and other fast-paced text out loud.
 
I visit schools where the majority of students are eligible for a sponsored lunch. So I understand what these children's grown-ups aren't bringing into the students' home worlds: books in bookcases, maps on the walls, Audubon prints, original Florida nature photography, fabric art from Panama, sculpture, a globe, a basket of one-hand musical sound-makers, and other cultural totems of varied expression in our "wonderful world."
 
For a few moments during my visit, I hope a taunt from the neighborhood bully, a cussing from an older, angry sibling, or a stinging rebuke from an unthinking grown-up is forgotten. 




  
LIFERAFT LIVE STREAMS
CONTINUE IN MARCH
Screen Actors Guild Foundation and Screen Actors Guild are proud to continue presenting the LifeRaft Live Stream series to Guild members across the nation at no charge, via live video stream on the Internet. To participate in these programs online, simply visit the SAG Foundation LifeRaft Live Stream show page at this link. All LifeRaft Live Stream events are available for later viewing here as well. Join us in March for these online events, Tuesdays, 9-11 p.m. Eastern/6-8 p.m. Pacific:
March 9
"The Real Deal on Actor Reels"*

March 16
"Overcoming Career Sabotage"

March 23
"SAG Contracts Corner: Television 101"*

March 30
"An Evening with Television Casting Directors"

Please note that events marked with an asterisk (*) are pre-recorded, followed by a live Q&A session with presenters exclusively for online audiences. You'll be able to submit your questions to panelists and moderators during live presentations by e-mailing LifeRaft@sagfoundation.org or you may tweet your questions at #LRLS.

WELCOME TO NEW AND
TRANSFERING MEMBERS

New Joins: Courtney Paige, Christina Franco, Gary Anello, Harley Marquette, Holly Widdoes, Jennifer Vaughn, Jessika McLaughlin,  Joseph Dryden, Louis Mercier, Marti Monge,  Shaun Kennard, T-Pain.

Transfers In: Alexander Davis, Allen Kane, Alonzo Ali, Alfonso Kafiti, Brad Henson, Brian Harris, Camille Bergman, Caroline Agudelo, Cathy Mae Sitaram, Charles Westfield, Chrisite Moreau, Christoff Marse, Chuck Gerena, Chuck Licini, Cindy Hogan, Darryl Phillips, Dean Coleman, Dorothy A. Healy, Gerda Shepard, Gina Lyn Ippolito, Gidion, Giovanni Rodriguez, Heath Houseman, Jasmine Leisa Garnes,  John P. Daly, John Ellis Dwyer, John Jett, Julieta Rosen, Linda Kee, Lisa Merril, Lissette Gonzalez, Martin Schaus, Meredith Majors,  Noemie Lagier, Patricia Gebhart, Patricia McBride, Penny Mathis, R.T. Lovatto, Rene Lavan, Roland Hirschel, Sage Hall, Shari Hughes, Sharon Watson, Teresa Trinwith, Terry Tarantino Woodcock, Thomas H. Watkins, Tony Ramirez, Tori Amos, Tyler Layton, Vanessa Monique Rossel, Wally Roustan.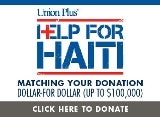 The Actors' Corner:
A Complete Laboratory for Members
SAG members now have one more advantage over non-union actors: the Actors' Corner. When member Rey Hernandez was asked to audition for the new Nicolas Cage movie (Hungry Rabbit Jumps) filming in Louisiana, there was just one problem: the casting directors, Fincannon and Associates, who are based in North Carolina, needed him to record his audition and submit online – and pronto!
"But I didn't have access to a video camera," said Hernandez. "Then, I remembered receiving an e-mail from the SAG office offering this service to members. I quickly called and SAG staff member Megan Schwandt scheduled me to come in the same day for a taping. She filmed me and helped edit the tape. Together, we transferred it to a flash drive and I e-mailed it off to my agent."
Within hours, Hernandez received a call from his agent that he booked the job. By the next day, he was on his way to Louisiana, with all travel expenses covered by his SAG contract. "I would like to thank all the SAG staff for offering this service to us," said Hernandez. "I feel this is very useful for Miami actors." 
Conceived by your Florida Branch Council, the Actors Corner is modeled after the SAG Foundation Actors Center. For members, and run by members, it offers a complete laboratory space including:
• Digital video recording equipment
• Computer lab including editing software, DVD and CD burner, scanner, and printer
• iActor tutorials
• Complete Library of SAG Foundation "Conversations" DVDs (high-profile members speaking to SAG members about the craft)  and "LifeRaft" DVDs (series addressing the business side of acting)
• Lounge for rehearsing and running lines
Volunteers are needed – we can't run our center without you. Here's how you can help:

Resources: Donate books or DVDs on the industry

Expertise: We're seeking skilled members to assist with camera recording and editing, as well as actors available to run lines for recording auditions with fellow members
 
To volunteer or book a block of time for your personal use, please contact Membership Coordinator Eileen Neel at (800) SAG-0767, option 5, extension 7079, or eileen.neel@sag.org.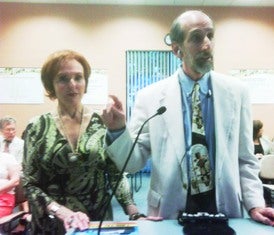 Branch Vice President Ellen Wacher and Branch President Steve Gladstone testify about the importance of state film incentives before the Broward County Legislative Delegation.
Branch President's Report
By Steve Gladstone

When I faced members of the Florida Legislature last December and said to them, "I'm told that you all here are not really interested in what we have to say and that you are only here out of obligation," I was unable to see their faces because I'm still a blind guy. I'm told most of them looked up and became interested.
I gave my pitch, tossed out some big numbers and closed saying, "I'm not here urging you to become film buffs or even love the industry. I'm here to exhort you as fiduciaries of the state of Florida to embrace this opportunity for economic growth."
Maybe they heard it this time.
According to the Governor's Office of Film and Entertainment, every year the incentive increased in funding, the productions coming to Florida increased dramatically. "Productions come to the state quickly when incentive funds are available."
When a major studio shoots a big budget film on location it can inject, according to the Motion Picture Association of America, as much as $225,000 per day into the local economy.
     
Our bucket has had a hole in it that has needed serious patching and refilling to bring Florida onto more of a level playing field with the New York, California, Michigan, Louisiana, and New Mexico incentive packages.
We still have the sunshine and we still have the locations and the infrastructure. All we need is the incentive to bring 'em back. In past years, the Florida incentive was based upon a cash rebate, which meant that the incentive for film productions was derived from the Florida state budget and paid back to the production in cash. The Florida House and Senate bills, HB 697 and SB 1430 respectively, are now offering up a different dish: a tax credit. A tax credit is a direct dollar-for-dollar reduction of the taxes a production company pays as part of their overall expenditures. This means the rebate can be much higher – perhaps to the tune of $75 million, up from a current $10 million, to attract film, video, and digital media projects here.
I want to emphasize the importance of you, the members, contacting your legislators to discuss and support these bills. If passed, they will directly affect your pocket. You will receive correspondence from SAG over the coming weeks, and your actions must not be underestimated.
On another note, I would like to underscore what a great open house we had in December, kicking off the new Actors' Corner, as well as our Member to Non Member organizing outreach plans to bring eligible non-SAG actors into the Guild. This will reduce a producer's ability to shoot non-union, encouraging them to consider signing one of our contracts.
Here's to work!
Legislative Perspective
By Ellen Wacher
SAG Florida Legislative Committee Chair and
Branch Council Vice President
I am superstitious enough that I hesitate to say that I am very hopeful about a significant piece of legislative for this session in the Florida Legislature. Truthfully, I am excited! For the first time we have two very powerful legislators supporting the industry's efforts:  Mike Haridopolos, incoming Senate president is sponsoring our bill, SB1430,  and Rep. Steve Precourt is supporting HB 697. They are enthusiastic and see us as a job enhancer for our state.
 
The bill would be a tax credit - better than previous years. It has a $75 million pot for both the film and digital industry. If this passes, we will again see much action in our state. Remember castings?
 
When you hear from SAG asking for calls to your area's senators and representatives, it is CRITICAL that you follow up. There is no such thing as too much. All other industries blanket their legislators with information and requests. We need to do the same. We did great last year in a grassroots effort; please, let's do even better this year so we can celebrate!
SAG Members Please Help Bring the Work Back to Florida. Legislative approval means more employment opportunities for Florida SAG Members.
We support House Bill 697, the Entertainment Industry Economic Development Act. At this critical stage, we are urging you to reach out to your legislators individually. Let them know what the Florida film, TV & digital media industry means to you, your family, your friends, your business and your community. If you cannot get an appointment with your legislator, meet with their key legislative aide, or send them a fax or a letter (not an e-mail). Feel free to use the documents linked below if you require more information.
To see the one page talking points that you can use in your communications, click here.
To find contact information for your legislative representatives:
Click here for the House of Representatives, click tab for "Find your representative" and enter your ZIP code.
Click here for the Senate, scroll down to the right hand column for "find your representative" and enter your ZIP code.
Click here to view a master contact list for all state legislators.
Here is a quick summary of highlights that you can include in your communications:
• Advise that you are a Florida resident in their jurisdiction. Emphasize that this bill is important to your livelihood, your family, and your community. Ask for their direct support.
• This legislation allows Florida to retain and create more high wage jobs by attracting production spending immediately, while avoiding any fiscal hit in the upcoming budget.
• The bill will generate substantial amounts of new revenue for the state by creating thousands of jobs for Floridians and boosting a broad and diverse spectrum of ancillary businesses.
• Money comes in before money is spent, making this a true performance-based tax credit. A certified production company only receives tax credits after all of its Florida expenditures have been verified.
We recommend that you thank the legislators for their service to your community and for their support of the film incentive program. You can remind them that your career relies on these incentives. Be sure to also include your name, address, e-mail address and phone number. Phone calls, e-mails, and faxes are all effective, but keep them short – you may most likely speak with an aide who will tally calls for and against and the legislative staff can become very consumed with work responsibilities
We thank you for your vigorous support, and a special note of thanks to Representative Precourt for his continued support of our industry. For more information, visit www.filmflorida.org.
…And Now for This Commercial Message
While the future of film is on the brink without competitive legislation (see article above), when it comes to commercials, we have an entirely different message to share: in spite of tough economic times, commercial work in Florida is going strong, and members are still raking in residuals. Just look at a sample list of some of the jobs that have filmed in Florida over the past few months: AT&T Mobility, AT&T Wireless, Gatorade, Olive Garden, Tide, Home Depot, Pearl Vision, Titleist Golf Balls, Accenture, Honda, Publix, Toyota, American Airlines, McDonalds, Puma, Verizon, Del Monte, McDonalds, Smuckers, Volkswagen, Ford, Mercedes Benz, Sun Life, Wendy's, Garnier, Miami Tourism, TMobile, U.S. Census.

While we can't deny the economy's impact, or an uptick in non-union employment, it's important to remember that for Florida, we're talking about a slight downturn, and by no means the disaster some would like you to believe. The fact is, there will always be industry people out there who would benefit from having talented performers available for inexpensive non-union buyouts because it better serves producers who want the best talent – but without having to pay for it.
The union jobs listed above speak for themselves. It pays to be a SAG member, and nothing can replace the pride of a professional career. And this past month, over 100 members showed up at our South Florida tri-union picnic to celebrate just that. Behind the scenes, your staff will never settle for "enough work." Our charge is to organize and maximize employment opportunities and earnings potential for you whenever and wherever we can.
Member Events, Workshops, Meetings and More
Florida SAG members are actively working (see article above) and eagerly showing up for members-only events. At our October membership meeting, attendance doubled from two years ago, and we added on a free feature film and dinner reception in partnership with the Fort Lauderdale Film Festival.
In November FLIFF invited us back to host a workshop for indie producers entitled, "How to Hire SAG Actors on any Budget, and Everything You Ever Wanted to Ask." Although this event was geared towards producers, pro-active members showed up to network with prospective employers. We also viewed a demo reel featuring a diverse sampling of Florida SAG actors and stunt performers, similar to the film montages you see on the SAG Awards show.
The December holiday season debuted the Actors' Corner and our first open house. Members mingled amidst food and festivity, and attended a variety of events including an iActor training, a viewing of the SAG Foundation's documentary about our union's history, and a Member to Non-Member organizing workshop. The day was rounded out by a Conservatory Improvisation workshop with special guest SAG Hollywood Conservatory Teacher Marsha Meyers.
2010 events are off to a strong start. Following our President's Picnic, member networking events are planned for South and Central Florida, as well as film screening and conservatory workshops in the coming months. And before you know it, we just may be planning the next SAG Awards Show party….
Member solidarity and union pride is stronger than ever during these challenging times. It's encouraging to see so many members committed to their profession, to each other and to increasing employment opportunities throughout the state.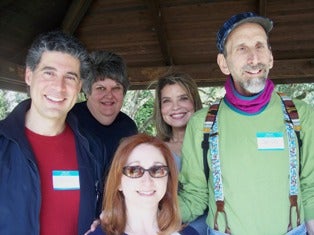 AFTRA Miami President Memo Sauceda, SAG Florida Executive Director Leslie Krensky, South Florida Equity Liaison Irene Adjan, AFTRA Miami Executive Director Herta Suarez and SAG Florida Branch President Steve Gladstone
SAG, AFTRA, and AEA celebrate at Inaugural Tri-Union Picnic
Over 100 union members showed up in solidarity for our first tri-union picnic, held on President's Day in Greynolds Park. The celebration was a way of saying thank you for our member support and a day to share union pride with family and friends.    
A special acknowledgement goes out to Florida Councilor and Event Chair Deanna Case who coordinated games, food and entertainment, and children's activities. Her efforts received rave reviews. "I've always felt that an actor is an actor whether on camera, stage or microphone," said SAG President Steve Gladstone. "Our three actors unions represent one virtual acting community and that community was present today having some good times together with their families and friends."
With such tremendous turnout, we hope to make this an annual event and will continue to seek more opportunities to unite our unions, whether it be for social outing or solidarity organizing.

To see a slideshow of picnic photos, click here. 
SAG Members Get Extra Screen Time Working on Student and Short Films
The SAG Student and Short Film Agreements are a win-win for everyone. They offer members meaty roles for their reels, and introduce serious students and emerging filmmakers – the employers of our future – to working with Screen Actors Guild from the onset of their careers.  
On November 3, Florida Executive Director Leslie Krensky and Associate Business Representative Linda Isrel visited the University of Miami to introduce student filmmakers to the Guild's Student Film Agreement. They met student Gabriel Villanueva, who was preparing his final thesis film.
Isrel worked with Villanueva to assist him in signing the Student Film Agreement and getting out an e-blast to the members about available roles. "From getting the word out about our project to finding talent," said Villanueva, "SAG has proven to be one of the most valuable tools for a student filmmaker."
Villanueva selected Florida Branch member Joseph James Frustaci from the members who responded and said working with a Guild member had a very positive impact on his production.
"Joe brought enthusiasm and a work ethic that exemplified exactly what SAG represents," said Villanueva. "I would recommend to my peers that using SAG is a definite advantage and an amazing work experience."
In Central Florida, filmmakers are equally enthusiastic. As a student producer at the University of Central Florida, Nils Taranger has always sought out the best talent in Florida.
"It has been an incredible experience to invite talent from Screen Actors Guild to audition for roles in our little movies and to experience how generously they donate their time to helping us learn how to make better films," he said.
Working as a production assistant on the Ultra Low Budget production Scare Zone, Taranger met Florida Branch member Arian Ash. "She was so much fun to work with, and watching her perform on set was amazing," he said. When he read the script for the short film Broken Records, Taranger immediately knew who he wanted to cast for the role of "Jane."
And for Ash, Broken Records was not just a résumé builder, but a significant bridge-builder for her career: Broken Records was selected for the 2010 Slamdance Film Festival and premiered in Park City, Utah in January.
Members who are interested in student and short films should watch their e-mail inbox–and follow us on Twitter (@SAGFL Branch) for upcoming casting notices. For more information, contact Linda Isrel at linda.isrel@sag.org.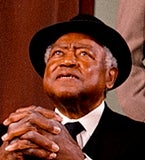 In Memoriam: Clarence Thomas, Former Florida Branch President
Florida Branch members recently lost a talented actor and activist. Former Branch President Clarence Thomas passed away last December and is survived by his beloved wife Barbara, whom he was married to for 56 years.
As previously noted by the Miami Herald, Thomas inspired a generation of younger African American performers. Frequent co-star and SAG member John Archie observed, "He has given service in so many ways to this community and the acting community. He was a wonderful actor, a fine man. He had an incredible mind."
Thomas performed in film, television, commercials, and on stage. He appeared with Ossie and Ruby Dee Davis, Harry Belafonte, Bill Cosby and other notable actors.  He served on the Florida Branch Council for two decades and was president from 2000 – 2002. Thomas also enjoyed a dual career as a teacher, and served as a mentor to many young actors. Thomas' service and contributions to the industry and community at large will be sorely missed, but live on as a model for emerging actors and unionists to emulate.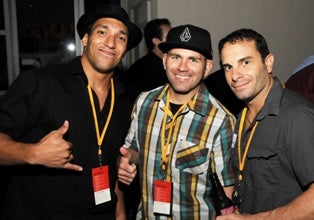 Guild members Anthony Matos, Robert Shavers and Chris Morena enjoy the festivities during the opening night VIP party of the Orlando Film Festival. Photo courtesy of Brion Price of Brion Price Photography.
Central Florida Informational Meeting and Orlando Film Festival
The Central Florida office changed things up this year at our annual informational meeting held on November 4, by entering into a special partnership with the Orlando Film Festival in order to provide the membership with a decidedly different and unique experience from previous meetings.
The evening started with a mixer at the Plaza Cinema Café in downtown Orlando, followed by a brief meeting and distribution of door prizes. Then the members walked next door to Sterling Sotheby's to attend the opening night VIP party of the Orlando Film Festival, which was already underway. The party was held on the rooftop, which provided everyone with beautiful vistas of downtown Orlando. The majority of the attendees then went back to the Plaza Cinema Café to screen the opening night movie Love Hurts, starring Richard E. Grant, Carrie-Anne Moss, Johnny Pacar, Jenna Elfman and Janeane Garofalo. And if that wasn't enough, an opening "night cap" was held at the Grand Bohemian Lounge immediately following the movie.
Thanks to the Central Florida office's sponsorship of the Orlando Film Festival, each member who attended the meeting received a VIP All Access Pass (valued at $100), which granted access to all the parties, events, screenings (including VIP preferred seating) and the filmmaker lounge for the run of the festival. 
This turned out to be a great members-only benefit and a terrific opportunity for SAG members to socialize and network with industry people, not just for one evening, but throughout the festival. It also directly contributed to a 25 percent increase in attendance from last year's informational meeting.
I'd like to thank Dan Springen, executive director of the Orlando Film Festival (and DGA member) for everything that he and the festival volunteers did in making this a successful event. I hope this marks the beginning of a long partnership with the festival. 

I also want to personally thank all of the members who volunteered their time at the meeting. 
Contact Us
Have a question about contracts, talent agents or your dues status? Need to file a claim?
The Florida Branch Office is here to answer your questions and assist.

Jule Balter
South Region Executive
Leslie Krensky
Florida Branch Executive

SAG Florida Branch
7300 North Kendall Drive
Suite 620
Miami, FL 33156-7840
Ph: (800) SAG-0767, option 5
Fax: (800) 844-5439