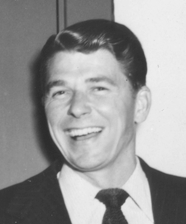 Before he became the 40th president of the United States, Ronald Reagan was president of Screen Actors Guild – during two significant periods.
Reagan, who began his career as a star of radio, film and television, first served the Guild as president from March 1947 through November 1952 (after serving previously as 3rd vice president and on the board). During this period, storied for its political and labor strife, his leadership paved the way for SAG's first contract in television, among other accomplishments.
At the request of the SAG National Board, Reagan returned to the SAG presidency in 1959 in order to head 1960 theatrical negotiations that ultimately resulted in the first pension and health plan for SAG members, not to mention residuals on films shot January 31, 1960, and after (once they were replayed on television).
On the anniversary of what would have been his 100th birthday today, Screen Actors Guild salutes the American icon for his acting legacy, his lasting contributions to the betterment of all professional actors through Guild leadership, and for his service to the country as a public servant.
You can read more about Reagan in the Screen Actor magazine "Snapshot" on page 68 of the Fall/Winter 2010 digital issue and at reagancentennial.com.
April 9, 1947: New SAG President Ronald Reagan at podium at the Hollywood Legion Stadium at a special informational membership meeting on proposals for upcoming theatrical negotiations. 
In 1947, Guild President Ronald Reagan, center, with fellow Guild officers, left to right: 3rd VP George Murphy, 1st VP Gene Kelly and 2nd VP William Holden.
 November 21, 1960: SAG Annual Membership Meeting at the Beverly Hilton. In a meeting led by newly-elected President George Chandler, who had served as president since Ronald Reagan's resignation in June. At this meeting, Reagan is presented with a gold and black marble pen and pencil desk set, inscribed: "To Ronald Reagan, whose unselfish leadership and devotion to the welfare of his fellow actors have gained him the affection of all in the Screen Actors Guild, this token of appreciation is presented by the Board of Directors on behalf of the membership at the Annual Meeting, November 21, 1960."