On March 8, International Women's Day, a coalition of Hollywood entertainment unions and non-profits presented Out of Silence: Readings from the Afghan Women's Writing Project, a program highlighting the deplorable human rights conditions of women in Afghanistan.

A stellar ensemble of SAG and AFTRA actresses read essays and poems collected from Afghan women whose extreme efforts to express their daily lives in writing, often in secret from friends and family, put them in danger of abuse or even death.  The SAG National Women's Committee along with AFTRA, WGA West, PGA and the non-profits Afghan Women's Writing Project, Women In Film and the Museum of Tolerance teamed up to make the evening possible.

A capacity audience of 300 at the Museum of Tolerance listened intently to the readings by actresses Summer Bishil, Nadia Bjorlin, Conchata Ferrell, Jodi Long, Nichelle Nichols, Teal Sherer, Bahar Soomekh, Nancy Travis and Marcia Wallace as a slide show of images from the Afghan landscape and women in burquas played on a large-screen.

"I really do think that this took it beyond the blog. This took it to the next level," said Masha Hamilton, founder of the Afghan Women's Writing Project.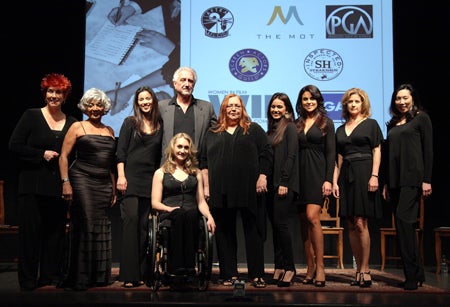 Marcia Wallace, Nichelle Nichols, Bahar Soomekh, Teal Sherer, Frederick Ponzlov, Conchata Ferrell, Summer Bishil, Nadia Bjorlin, Nancy Travis and Jodi Long participate in Out of Silence: Readings from the Afghan Women's Writing Project.
Photo Credit: Angela Weiss/Getty Images
The successful evening included actresses active in SAG: Teal Sherer is on SAG's Committee for Performers with Disabilities and her readings included harrowing stories of disabled Afghan women who were affected by bombings or disease. Nancy Travis, a National Board member of SAG, and Jodi Long participate in SAG's National Women's Committee; they both read a variety of stories that showed the courageous resolve of women in Afghanistan.
"I think the message really for this is we have to support the women in the world," said Travis. "Women are suffering in places and unless we unite and support each other, we accomplish nothing. We aren't free."

Added Sherer, "I think a big thing about tonight was realizing these women are not victims. They are courageous women and I think that is a big part of it. I hope it brings an awareness of what they are going through and their strength."

Click here for the Los Angeles Fox affiliate's video of the event.

Special thanks for the evening go out to Steakhaus Productions and public relations company Fifteen Minutes.