Reel News from SAG Detroit, July 6, 2009
July 6, 2009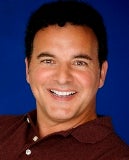 A MESSAGE FROM THE BRANCH PRESIDENT
By Peter Tocco

I have just returned recently from our SAG Regional Branch Division meetings in Atlanta where we had an opportunity to meet interim National Executive Director David White. I find him to be very knowledgeable about the workings and needs of our union. I also find him to be very approachable. I hope the Guild offers him the permanent NED position later this year.

As you all know by now, our TV/Theatrical Contract passed by an overwhelming 78 percent. I hope we can now focus on merging our union with AFTRA.

During the RBD meeting, I was appointed to a national taskforce for online casting. This is a great committee for me to join. We currently are working with breakdown services to provide a link to SAG members who are on iActor. It is important now more than ever to place your profile on iActor if you have not done so already. If you need help with this, we are launching our "Coffee and Casting" workshops to help you. Some of us will meet with a couple of members at a convenient coffee shop and walk you through the set up of your iActor profile. It will be easy and we'll have a good time doing it. Please contact Marcia at the SAG office if you're interested. I hope to see many of you for a cappuccino or lattes.

I also would like to include a section in future Detroit Branch newsletters called "About You." Let us know what you're working on or what else you are doing in the biz to further your career. Just send us an e-mail so we can include you in the next newsletter.

I hope we all have a busy summer making movies! And remember: "When we stand as one, all are heard."

For further information or questions regarding iActor, write to info@iactor.org or click here.
SING IT AGAIN, SAM
By Ed Kelly
National Board Representative

Astonished is the only word I can use to describe it. Sometimes it eats away at me. It crops up in airports and at lunches with friends and former colleagues from radio. It's more than misperception and misrepresentation, much more. Born of ignorance, insecurity and at times jealousy, I am astonished that so many across our nation feel so little for the American auto worker.

My mother earned a union wage working for GM, and I shall always remember her in that blue GM jacket, coming through the door to four hungry kids. Her union wage put a roof above us and food on the table. It's true that the job she started at age 40 didn't make her rich, but it did pay off our little condo, and gave us kids a start in life. I wonder what she would say now to the apathy, indifference and heartlessness that exist toward the UAW worker out of a job.

They say that prosperity for union workers floats all boats; maybe so. But, this I know: wages, benefits and retirement incomes fought for by labor movements have permeated our society, and raised the lot of the American middle class. We don't look for medals or glory. A simple appreciation would suffice. Certainly all of the eloquence in the world means little to the woman or man whose life is now turned upside down by a closed plant or a vanished pension benefit.

There is surely enough blame pointed at either the auto unions or management. But unions have over the years attempted to ameliorate the liabilities. Even now, with the unions to which I belong, I am (as I hope you are) very pleased to see the signing of both the Commercials and TV/Theatrical contracts. This gives hope.

A long time ago, Sammy Davis sang a song that I know you've heard. Such was its power that it resonated mightily in the motor city. I did some digging and discovered that he penned the song because of the outpouring of love he felt from a city and its people.

It was a love that came from the soul of Detroit, and the song was called "Hello Detroit." In the opening lines Sam sang:

"You're a fighter, you're a lover,
You're strong and you recover,
From whatever gets you down…. "

We will go on. Detroit will survive.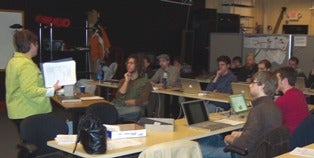 Marcia Fishman conducts a new media signatory
workshop at the academy.
ORGANIZING SHORT PROJECTS WITH LONG RESULTS
By Marcia Fishman
Detroit Branch Executive Director

Although some of our SAG contracts may seem insignificant because they offer deferred payments, or the production is very small, such contracts may greatly impact our market now and in the future. These contracts are worthy of our organizing efforts. The following are two examples.

The New Media Agreement is for short entertainment pieces that are made for the Internet and other new media platforms. We took this contract to Compass Film Academy in Grand Rapids. Compass Film Academy is an intensive film school for serious and project-focused film students. As part of their curriculum, Compass students work with industry professionals and get extensive on-set experiences in Los Angeles and other locations. In April, the school signed the SAG New Media Agreement and was therefore able to cast SAG members in their Internet projects.

To launch the project, Grand Rapids Dreher Casting Company cast actors who belong or hope to belong to SAG. Then, in one afternoon, the students split off as directors and crew, and three scripts were filmed. At the end of the day, Compass Film Academy instructors and students met with the actors as an overall review of the day. Here are some of the major results of this organizing project.

The students felt that working with professional actors was one of their best film experiences to date. As one student explained, "The actors were quick to act and take direction. Getting good results took half the time as when we use our friends." Another said, "Having professionals allowed us, as crew members, to be ahead of schedule, and we took fewer shots." An instructor said, "Working with SAG actors is like working with craftsman rather than enthusiasts."

And the actors were impressed at the competence level of the student directors and crew. They were happy to take direction from them. Even though the school itself actually signed the contract, the students still learned that contracts are less intimidating than expected, and that all professional productions will require them.

Finally, we were able to pave another way for SAG in Grand Rapids, a city with a large film community and yet a small amount of SAG work.

Follow these links and you can see the students' productions:

Jasper

Tracks

First Offense

The following is another example of how a small project can produce important results:
Four SAG members went to the University of Michigan's "Producers" class and did table top readings of the student's short films. The students were incredibly impressed with how their scripts sounded when read by trained, professional screen actors. Throughout the evening we continually reminded them that there are affordable SAG agreements, and that they could use such actors in their projects. Two weeks later, one of the students produced a film under our agreement.

The importance of these two school projects is partially the opportunity for our members to perform under our contracts. What is truly significant, however, is the fact that serious film students develop the mindset that no film is as good as a professional film - and a professional film includes SAG actors.

And here is a postscript: Since I wrote this article, Compass Film Academy just asked for the paperwork to sign their summer thesis project to a SAG film agreement.
HIGHLIGHTS OF OUR NEW CONTRACT
The Commercials Contract
• 5.5% overall wage increase.
• Increase of employer contribution to pension and health of 15.5%.
• 4.43% increase for Class A, wild spot, and cable.
• Protection of existing Class A residual payment structure.
• First-ever payment structure in commercials for the Internet and new media beginning April 1, 2011.

The TV/Theatrical Contract
• 6.5% wage increase over the course of the contract: 3% increase effective June 10, 2009, and 3.5% increase on June 10, 2010.
• 0.5% increase in pension and health contributions for productions beginning on or after June 10, 2009.
• A new media structure that tracks those achieved by other industry unions, resulting in gains for actors.
• For the first time, stunt coordinators employed on television motion pictures will participate in revenue-based residuals.
• Increased residuals when TV shows re-run in network primetime.
EDUCATING THOSE WHO WORK WITH THE THEATRICAL CONTRACT
Stephanie Perry, manager of the TV/Theatrical Department in New York, visited Detroit this past April. With the growing film industry of Michigan, this visit was an effort to offer more theatrical contract information to those in the state's film community.

Perry had three meetings. The first was with casting directors and franchised agents, and the meeting offered clarifications of rules and regulations. The second meeting was a Low Budget Signatory Workshop—an informational meeting for those who might consider using SAG actors in their next project. This workshop was standing room only, a positive sign for an increase in SAG contracts. The third meeting was for SAG members only, and the topic was "Theatrical Contract 101."

Detroit Branch SAG members greatly appreciated that Perry generously gave time in Detroit and certainly left behind a lot more.
TV/THEATRICAL CONTRACT FAQ
Q: What is "consecutive employment?"

A: Schedule A of the Codified Basic Agreement requires that performers on television programs and full budget feature films are employed continuously from the first day they are hired until the last. However, Schedule A allows for one exception to this rule per production, per performer. This is what is commonly known as "drop and pickup."

Q: What does "drop and pick up" mean?

A: If, at the time of original engagement, the day performer is given a firm pick-up date that is more than 14 calendar days* after the close of his initial employment, compensation need not be paid for the intervening time.

Day performers on episodic television paid not less than double minimum (excluding major role performers) may be dropped and picked up once in each episode, subject to a firm pick up date being given. In this case, there are no minimum number of intervening days. All others have a 14-day intervening period.

*This period shall be 10 calendar days for domestic productions of theatrical films and features made primarily for television exhibition.

Q: When is a day performer definitely engaged?

A: A day performer is definitely engaged in any of the following events:

1. When the performer is given written notice of acceptance;

2. When a form contract signed by the producer is delivered to the performer or when an unsigned contract is delivered by producer to performer and is executed by performer as so delivered and returned to the producer;

3. When a script is delivered to the performer by the producer; however, this does not include the delivery of a script for a test, audition or interview nor the submission of a script for the purpose of permitting the performer to determine if he desires the engagement;

4. When a performer is fitted for work (does not apply to wardrobe tests);

5. When the performer is given a verbal call by the producer or an authorized company representative, which is accepted; or

6. When the performer is actually called by the producer and agrees to report on the commencement date for which the call is given. HOWEVER: without a written commitment, until noon of the day preceding such commencement date, either the producer or the performer may cancel such employment.
FILM PRODUCTIONS IN MICHIGAN
The Guild has been contacted by the following productions about becoming signatory to one of the Screen Actors Guild's collective bargaining agreements. Please be advised that these producers may not have completed the signatory process at this time. It is the responsibility of each member to confirm that each producer has signed the applicable contract before making an agreement to render services. Failure to confirm the signatory status before rendering services may lead to disciplinary charges being filed.

All projects are pending the completion of the signatory process, unless noted otherwise.

The Irishman—Theatrical (active)
Flipped—Theatrical (active)
Stone—Theatrical (conditional start)
Camp Swap—Theatrical
The Falls—Theatrical
Public House—Theatrical
Every Trace—Low Budget
Knocking on Heaven's Door—Low Budget Modified
Coventry Lane—Ultra Low Budget
The Dock Porter—Theatrical
Stones Point—Low Budget
20% Fiction—Theatrical
Swimmers—Theatrical
Prisoners—Theatrical
Psycho/Analysis—Theatrical
Sellevision—Theatrical
Order to Fire—Theatrical
Armored—Theatrical
Seven Below Zero—Theatrical
The Cavern—Theatrical
Chocolate—Modified Low Budget
Rag Doll—Low Budget Affirmative Action
Figure—Theatrical
Mental—Theatrical
SAVE THE DATE
Annual Membership Meeting
Saturday, September 12, 2009
Time and Place TBA
Topic: Organizing New Contracts and How You Can Participate

DUES REMINDER
If you haven't done so already, please pay your dues today. If you are not an active, paid-up member in good standing, you may not be able to vote in Guild elections or contract referenda or be eligible to serve on the council or committees. You also must be paid to date to register on iActor, the Guild's online casting program, which is now being used by casting directors nationwide. If you have any questions regarding your dues, please contact the Cashiers Department at (800) SAG-0767, prompt 2, (212) 944-6243 or (323) 549-6752.

QUESTIONS REGARDING THIS NEWSLETTER?
Contact Marcia Fishman, Detroit Branch executive director at (248) 351-2678, (800) SAG-0767, ext. 7 or mfishman@sag.org.