The Official E-Newsletter of the Colorado Local
WHY DOES GLOBAL RULE ONE & NO CONTRACT/NO WORK MATTER TO YOU?
As a member, you're expected to abide by Global Rule One and No Contract/No Work. What does this mean to you? You agree never to work on non-union projects.
The SAG-AFTRA Merger Agreement specifically provides that the AFTRA No Contract/No Work Rule and SAG Global Rule One continue to apply (after merger) just as they always have. Furthermore, contrary to popular belief, Global Rule One and the No Contract/No Work Rule are substantially the same.
Let's say you get a non-union commercial and get X amount of compensation. What's missing? It's a reduced rate, you don't get paid more even if they run it forever. There's no pension and health contribution, and you'll perform in less-than-union-standard working conditions.
SAG-AFTRA members who work non-union are weakening the strength of the entire organization. If producers can get professional actors at a "discount," why would they sign up to pay union rates?
So, not only do you settle for reduced pay and nonexistent benefits, but you end up having less union work available.
This also makes fellow SAG-AFTRA members feel pressure to work as scabs too. "If so-and-so does it, why can't you?" You might hear this from producers, fellow actors, maybe even your agent (who should really know better).
The problem is it becomes a vicious circle. As more actors work non-union, producers are less willing to use union contracts. This weakens the bargaining power of the union. Can you imagine what wages and working conditions would be without the might of the union behind members?
What Can You do to Help?
The most obvious answer is to only work union projects. But there are other things you can do to make SAG-AFTRA and its contracts even more powerful.
Flip it: If someone wants you to work a non-union project, insist they look into getting a union contract. Have them contact Julie Crane to get started.
Encourage fellow performers to follow your example. If all professional performers only worked union contracts, producers would be forced to pay union wages and benefits.
Get involved. The SAG-AFTRA Colorado Local is looking for volunteers to serve on some of our important committees. It is the work of our committees that brings strength to this local. You are encouraged to join with your fellow SAG-AFTRA members on a committee that matches your interests:
- Agency Relations
- Conservatory
- Diversity
- Government Affairs and Public Policy (GAPP)
- Organizing/Events
- SAG-AFTRA/AEA Relations
If you have an interest in any of the above committees or know someone who would be willing to lend us a hand, please contact Julie Crane via email or call (720) 932-8193.
Take Care of Yourself, Too
When working union projects, make sure they're legitimate. We had more than one group nearly duped this past year by producers who told them that the project was SAG, when in fact the production never completed the paperwork. Even though you're trying to do the right thing, you could still be penalized for violating Global Rule One and No Contract/No Work.
When you are called to work, make sure you get a SAG or AFTRA employment contract before the end of your first day. You also want to make sure you complete the sign-in sheets every day you work. Staff can't help you with claims if there's no proof you ever worked!
If you haven't been paid on time, let us know. Don't wait until the production has wrapped and left town. We can often get problems straightened out without a lengthy claim process.
Being a professional means just that — being professional. It will help your union, your local industry and most importantly, your career.
WELCOME TO RECENT NEW MEMBERS AND TRANSFERS
New Members: Stephen Bowlby, Tristan Morris
Transfers In: Krystle Hernandez, Michelle Kova, Norman Maxwell, Vicki Kenderes Eibner, Chuck Novatka, Rick Barry, Stephen C. Barry, Taber Maier, Douglas C. Metzger, Jonelle S. Anderson, Donald R. Hawley, Tim Kimber, Michelle Panek, Christian Sinclair, Rick M. Bittle, Sean Michael Gloria
When Opportunity Comes a-Knockin'
Chaz Grundy
President, SAG-AFTRA Colorado
Let me take a moment to offer my heartfelt thanks to Mr. John Singer for his many years of service and leadership as Colorado's legacy SAG President, and for agreeing to stay on for the first six months after merger as the Colorado Local's co-president to help with the transition. With exemplary guidance and directorship, his term helped lead us into an era of a new union and an improved film incentive package for Colorado. 
As the first SAG-AFTRA Colorado Local president, I will be standing on his shoulders to continue the work for our membership. I am humbled by the responsibilities that rest with me. I will graciously look forward to his counsel and experience as we continue to move forward. Yes — as we continue to move forward.
There's a dirty little secret: Performers love working so much we will do it for free, or almost free. We are so elated to be cast and so eager to please we sometimes undervalue ourselves. So, what is our true value? The work our members do helps drive the economic engines of this country. According to HR&A advisors (an industry-leading real estate, economic development and energy-efficiency consulting firm), New York's film and television incentive program has generated billions of dollars in economic spending and personal income to the state economy between 2008 and 2011. Georgia's film incentives have greatly impacted its economy. It is currently producing about 32 film and television shows. Colorado's increased incentive has been in effect for approximately seven months, and reports coming in say it's starting to work — as we continue to move forward.
Now here is the thing — most our members aren't immediately recognizable when they walk down the street. We have to love the craft more than the notion of being famous. It can take some time to succeed in this business, but you have to motivate yourself and keep at it. This business is not fair. We need to show a proven record of being reliable and providing a consistent body of work. This will help make us more valuable to agents, producers and casting directors — as we continue to move forward.
Master the art of the audition. A few months ago, Colorado Local Vice President Sheila Ivy Traister presented the Shoot, Post & Upload conservatory. This workshop demonstrated how actors could film, edit, compress and upload an audition. 
Attend industry events. Local Board member Linda Lee facilitated the coordination of the Industry Mixer & SAG Awards Viewing Party, where industry professionals (directors, producers, agents, etc.) were invited. The SAG-AFTRA Colorado Local supported the recent CINEMA Day festivities, and many of our members were in attendance.
Invest in great headshots. I know this can be expensive, but they're an investment! Post clips of your work. To my understanding, sometimes casting does not have the time to look at reels, but rather at clips that corresponds to the character in their project — as we continue to move forward.
I have been entrusted to not only help continue the best of the legacies, but also to advance the possibilities. Resilience is what defines our character. And, our character is determined not by our leaders, but by our membership. I ask the Colorado membership to stand with me and we will demonstrate our resilience — as we continue to move forward! 
When opportunity comes a-knockin', don't be in the backyard looking for four-leaf clovers.
We Need Tushies
By David Hartley-Margolin
National Vice President, Small Locals (all 17 of us)
As I write from commercials contract negotiations in New York, I look at the calendar and realize SAG-AFTRA is almost a year old. The membership, after many previous attempts, at long last decided it was time to stop unions from competing with each other, and overwhelmingly voted to merge. SAG–AFTRA was born.
Like most newborns, SAG-AFTRA shared many of the same traits: First, discover your hands, then you roll over, then crawl, then walk, and so on, transitioning from one stage of development to the next. 
In the first 12 months of an 18-month transition period, one of the things we have concentrated on is establishing the rudimentary constructs of how the new union will be governed. Leadership is creating policies that protect the union via the institution of Democratic principles that protect the members. Paramount in this pursuit is elections.
By far, the most important election in our young history is the one that will be held this year. In the summer of 2013, our membership will elect a member to every office within the union. Every single elected position will be run. This will never happen again. Subsequent elections will be held every other year, with only a certain number of seats on the ballot.
Of course each member will only vote to fill a certain number of seats determined by where they live. Even so, that's a lot of seats that will need nice warm butts sitting in them, working hard to help SAG-AFTRA grow and mature.
Therefore, I urge all and sundry who are interested in volunteering to serve the membership, to step up and run for office. We will be electing convention delegates, local officers and board members, and a national director, who will represent our local at National Board meetings.
So, be on the lookout for mailings and e-blasts announcing how you can throw your hat into the ring this year. This election will determine who represents our interests on all levels of governance at SAG-AFTRA for the next two years. It is your union. Get involved!
Colorado Locals Celebrate SAG Awards
By Linda Lee
The third annual Colorado Local SAG Awards Viewing Party was held on Jan. 27 at the Sports Column in Denver. Nearly 75 people were on hand to enjoy the awards ceremony, watched on several large-screen televisions throughout the private viewing room.
Special guest speakers included Donald Zuckerman from the Colorado Office of Film, Television and Media and Sal Steels from the Colorado Film Forum (CFF). Both were on hand to share recent updates within the industry, not only in Colorado, but nationally as well.
Before the viewing of the awards ceremony began, Zuckerman spoke to the group about changes occurring within the industry.
When asked what he thought the future held for filming in Colorado, Zuckerman said he believed Colorado had a lot to offer and that his office was working hard to bring industry people into the area to see all that was available for film and television projects. The confidence he brought to the room was palpable; those who were at the party are people within the industry who are ready to work, so knowing that there is a network of support beginning to be woven throughout local industry inspires all of us to get out there and be involved.
Steels also addressed the crowd and had a lot of positive things to say about the changes within the local industry, and how CFF was striving to bring more information to the working actor.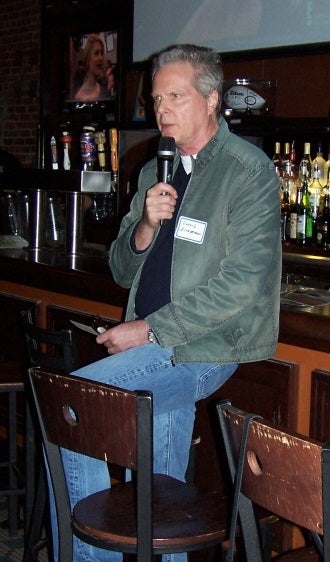 Zuckerman gives the crowd food for thought about the industry before the awards ceremony began.
During the commercial breaks, great inside information was disseminated and door prizes were given out through random drawings. This year's door prizes included totes filled with swag from SAG-AFTRA, the SAG Awards and donations from within the industry, including gift cards, T-shirts, posters and several memberships to the Denver Film Society.
For those who weren't able to attend this year's party — you missed a fun time! Also, it's one of the best places to meet a diverse group of people within the media industry. A special thanks to the Denver Film Society and Sheila Traister for their generous donations to the event, as well as Donald Zuckerman and Sal Steels. We hope to see you next year when we celebrate the 20th Annual Screen Actors Guild Awards.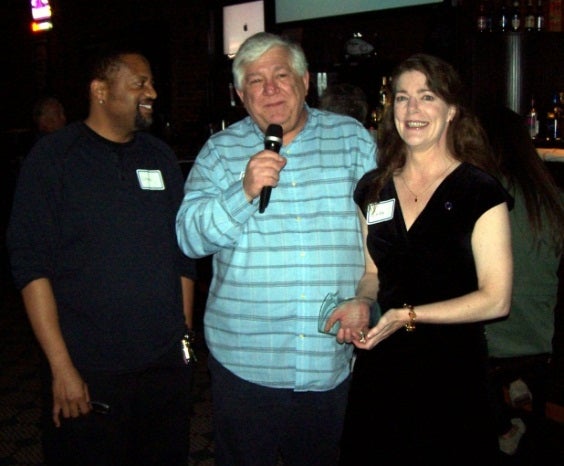 Colorado Local President Chaz Grundy, left, and Local Board member Linda Lee pay tribute to John Singer for his years of service as legacy SAG Colorado Branch president.
Legacy Colorado Branch President Turns Over the Reins
By Linda Lee
At this year's Colorado Local SAG Awards Viewing party, held at the Sports Column in Denver, past President John Singer was honored for his 10 years of service as president. Singer has a 22-year history with legacy SAG, now SAG-AFTRA Colorado Local.
Singer recalls how he got the news about becoming the president. "I became president purely by accident. Our previous executive director, Susan Gurule, called me up one afternoon and said something to the effect, 'Hi John. Our president, Dan Hugo moved away.' I said something like, 'Uh huh.' Then she commented, 'You are next in line. Congratulations, Mr. President. Oh by the way, you need to be in L.A. next week for the National Board meeting.' The next thing out of my mouth was probably unintelligible, or at least not printable."
Singer shared the article below with me when I asked him for some personal perceptions on becoming branch president at that time. "Below is an excerpt from a newsletter article I wrote shortly after becoming president. It may give you some insights into what I was thinking at the time."
RAMBLINGS OF A NEW SAG BRANCH PRESIDENT
"As some of you may know, I became the president of the Colorado Branch of the Screen Actors Guild not long ago. It was not an office I was running for and was the last thing I was expecting on the day it happened. Our former president, Dan Hugo fell in love, got married and then moved to Arizona. I wish him well in his new venture. Fortunately, our union is strong and will survive in spite of me.
"I have had to learn a lot in the past couple of months about our union and its many facets. I have learned there are a total of 20 branches around the country and have had the pleasure of meeting most of the other branch presidents and National Board members. They seemed to graciously welcome me into the fold and have helped me learn my way around the union.
"I have learned there is a great divide between the National Board members who govern our union. They all seem to mean well and wish for the same things, they just want to accomplish their goals in different ways. The debate can become quite spirited at times and even contemptuous on occasion.
"I learned the many struggles 'right-to-work' states have to deal with — a huge bullet we dodged on Election Day. In the RTW states, the line between union and non-union is not quite so clear, and opportunities for union workers become scarce. In Colorado, it can safely be assumed we will not have to deal with right-to-work issues for at least a couple of more years.
"I have also met and talked to the many staff personnel that help SAG run smoothly on a day-to-day basis. They are a dedicated, hard-working group of individuals who only have our best interests at heart …"
Singer went on to explain that, "Because I was previously a member of the state Legislature, we (the legacy SAG Council) became very active in lobbying certain issues. Whenever right-to-work legislation, film incentives or anything else came up in the Legislature affecting us, we were over there giving testimony and lobbying for our positions. During the past 10 years, we have survived a strike, numerous attempts at RTW, and a second and third attempt at merger — the third time being the charm.
"Since we had no consistent work in Colorado, most of the time during my reign I felt I was mostly the caretaker of the branch; striving to keep it alive long enough to make it through the drought without doing any damage. The industry seems to be picking up some in Colorado now, and I envision good times ahead for union actors in this region. When merger actually passed and Colorado finally started offering film incentives, I decided it was time for a younger, more aggressive member to take over the reins of the union. I had done what I had promised, kept it alive and done no harm. I enjoyed every minute of it and felt blessed I was able to represent the union without becoming an embarrassment."
We thank Singer for his long commitment to service, and know that our branch/local is better because of it.
Shoot, Post & Upload at the SAG-AFTRA Colorado Local Conservatory
By Sheila Traister, Conservatory Chair
Late last fall, the SAG-AFTRA Colorado Local launched its first conservatory workshop since merger, Shoot, Post & Upload. The room was packed with professional actors who came to learn how to film, edit, compress and upload a professional-quality audition from their home using commonly owned equipment and software for both PC and Mac, as well as the key requirements for delivering a "winning" audition. These skills are a must in today's industry, where actors are often being cast via their digital submissions for work in and outside of the markets in which they live.
 
The workshop was conceived and presented by Colorado Local Conservatory Chair Sheila Ivy Traister, who is also an international acting coach, and veteran New Mexico casting associate Aaron Giombolini, who helps cast television series and major studio and indie films.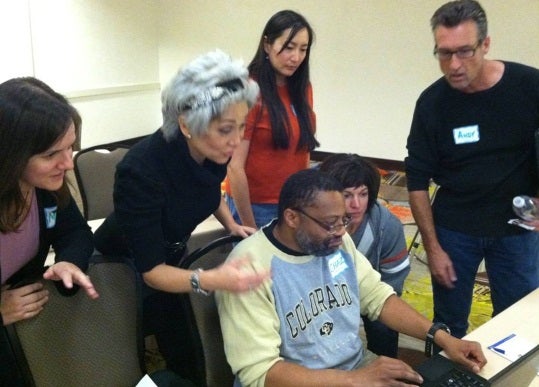 Sheila Traister showing conservatory participants how to properly upload their auditions
Filming in one's home, office or while on the road is certainly a convenience that can be a "win-win" for the actor and the casting director. However, it can also be a "lose-lose." When auditioning with a casting director, they are responsible for how you are framed, how you sound, the quality of the lighting and your performance. When on your own, despite your talent, actors without the technical knowledge or the most basic knowledge of slating, proficient cold copy techniques and how to relate to the reader or camera will miss out.
With a combined total of 35 years between them in the industry, Giombolini's technical expertise and years in the casting room, coupled with Traister's years as an actor and acting coach, proved invaluable for the attendees. The questions never stopped.
 
Cajardo Lindsey, a SAG-AFTRA and AEA member had this to say, "I thought I knew what I was doing after submitting online for the last four years. I was grateful for the technical information Aaron provided and for the wealth of what he offered from a casting director's perspective. And [I] was astounded with what Sheila taught regarding performance and preparation for auditions; as an actor of 18 years, I learned what I didn't know and what I had been doing wrong. With actors submitting from everywhere around the country for any given project, I'm now confident that my online submission will be competitive and up to the standards casting directors are needing and expecting from me in any market."
"As a casting associate on large-scale projects, we field submissions from actors from all over the U.S.," Giombolini said. "I've seen lots of submissions that are in need of help. It was great to see a room of professional actors engaging with the performance and technical steps needed to shoot, post and upload a 'winning' audition that could get them cast from their submission." Giombolini went on to say that "It's incredibly important to me that actors are empowered to do this; we want to see you at your best. Plus, it makes my job a whole lot easier."
Stay tuned for information on our upcoming workshops.
Film Incentives Update
As you know, Colorado has a rich filmmaking history and, although the past decade has been extremely quiet, thanks to a new incentives program, we're now back in the moviemaking business. In fact, three feature films have already committed to shooting here over the next 12 months.
With these films, all funds available in the incentives program have been used up in only seven months. This is very good news, as it means that lawmakers will be encouraged to add more funds into the program next year, since it has been proven to be a resounding success.
It's important to note the incentives aren't just about bringing Hollywood to our state, they're also about putting Colorado residents and our members to work.
During the recent Denver Film Society Oscar® Experience/Denver GlitzGlamGive event, industry partner CFVA sponsored a union table to recognize some of the industry professionals who live and work in Colorado and are ready to support these films. During the night's festivities, the Denver Film Society gave a special shout-out to these individuals.
SAG-AFTRA Local President Chaz Grundy joined members from the Director's Guild of America, Location Managers Guild of America, Teamsters, the International Alliance of Theatrical Stage Employees and the International Cinematographers Guild at the CFVA table.