The Official E-Newsletter of Louisiana/Mississippi
JOINT BARGAINING APPROVED BY SAG
Meeting in a videoconference plenary in Los Angeles and New York on March 13, the Screen Actors Guild National Board of Directors approved 78 percent to 22 percent a joint bargaining agreement with AFTRA for the negotiation of successor agreements for the contracts covering theatrical motion pictures and primetime dramatic television. The AFTRA National Board of Directors previously approved joint bargaining at its meeting February 27.

The motion: "It was moved and seconded that the National Board of Directors approves the Joint Bargaining Agreement for the Television/Theatrical Contracts and instructs staff and counsel to finalize the language of the Agreement substantially in the form presented."

Guild President Ken Howard said, "I applaud the board's action. Bargaining together is a smart decision and voting up this agreement clearly serves the best interests of all SAG members. I'm grateful to the board and look forward to working with our partners at AFTRA toward a successful negotiation."

Added Guild National Executive Director and Chief Negotiator David White, "This is a positive step that delivers a significant benefit to our members. There is no disputing that we are stronger together and joint negotiation of these contracts makes sense for both our organizations."

SAG and AFTRA representatives will meet in the coming days to finalize and execute the joint bargaining agreement. The agreement largely tracks the agreement used for the successful 2009 joint negotiation of the Commercials Contracts and includes the provisions of the existing AFL-CIO facilitated No Raiding/Non-Disparagement Agreement between Screen Actors Guild and AFTRA.
SAG CREATES PERFORMANCE
CAPTURE COMMITTE
Screen Actors Guild's National Board has just created a National Performance Capture Committee. The creation of the committee stemmed from a meeting of performers who have experience with this type of work. The meeting, organized by the TV/Theatrical Standing Committee and Contracts Department staff, provided these performers with a forum to discuss the effects performance capture will have on the work of actors and SAG contracts going forward.

The National Board appointed Woody Schultz as national chair of the committee. Schultz has extensive experience in this area, including work on films such as Beowulf, The Polar Express and Avatar.

Performance capture is the process of recording actions and emotions of human actors, and using that information to animate digital character models in 2D or 3D computer animation. Though not necessarily a new technology, performance capture is evolving and has recently garnered much attention due to the success of films such as Avatar and A Christmas Carol.

Schultz and the rest of the committee hope to raise awareness about this important area of work and will investigate and give voice to the unique concerns and experiences of those members rendering performances across all media that are recorded using performance capture technology.

Wages and Working Conditions caucuses will be held soon for the upcoming TV/Theatrical Contract negotiations in the fall. We encourage all SAG members who work in performance capture to share their experiences and concerns with the committee.
SAG.ORG UPGRADES
ONLINE EXPERIENCE

Our website has improved once again. More content-packed and user-friendly, the recent upgrades to SAG.org help you get what you need immediately, while keeping pace with the technology that the world uses to communicate.

News and Knowledge Right Away

With a refreshed home page design, the news that matters most to you is positioned front and center. Be up-to-the-minute on SAG National Board decisions that may affect your life as a working actor, learn about changes to your contract, plan to attend upcoming panel discussions and networking opportunities that could help you land work, and receive member alerts that protect your interests by warning against scams or other career pitfalls. We take away the uncertainty that you'll miss out by making this information the first thing you'll see.

Volumes of Video, Courtesy of SAG TV

In addition to a featured video at the top of the new SAG.org home page, you're also one click away from the improvements to the SAG TV section of the site, which includes access to our always growing archive. You can search content by subject matter groupings, based on your interests. Convenient icons even give you a preview of what you'll see, and a new expanded video viewer allows for high-quality widescreen viewing.
Easy Access to SAG's Social Networks

SAG knows the importance of social networking to you. As another new convenience, you can follow us on Facebook, Twitter, RSS and with a new iPhone app. Simply click the icons on the left side of the home page.

Producers' Center – One-Stop Convenience

Meeting your needs is important, and so is meeting the needs of our employers. After all, improving their online experience makes it easier for them to create work for Guild members! Everything a producer needs to work with SAG is available in one place in our new Producers' Center. There, anyone who wishes to make any kind of SAG project, for any platform, can find all of the resources needed to do so. Rate sheets, sample contracts, FAQs and more – it's all conveniently accessed via the home page.

Tell Us What You Think

All of these changes would not be possible without SAG National Executive Director David White's commitment to enhance the union's communications capabilities to match or exceed industry standards, the vision of our Guild Website Subcommittee and feedback from  our members.
Let us know your thoughts at sagcommunications@sag.org.
DUES REMINDER
If you haven't done so already, please pay your dues today. If you are not an active, paid-up member in good standing, you may not be able to vote in Guild elections or contract referenda or be eligible to serve on the council or committees. You also must be paid to date to register on iActor, the Guild's online casting program, which is now being used by casting directors nationwide. If you have any questions regarding your dues, please contact the Cashiers Department at (800) SAG-0767, prompt 2, or (212) 944-6243.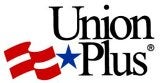 UNION PLUS PROGRAMS
FOR HARD TIMES

As a Screen Actors Guild member, you always can rely on Union Plus to provide great benefits, rain or shine. But in challenging economic times, these discounts and programs can be even more valuable.

Credit counseling: All SAG families can get free credit counseling services, budgeting advice and no-fee debt management and bankruptcy counseling benefits. Call (877) 833-1745.

Prescription discount: SAG members can get a free online prescription discount card to save on out-of-pocket prescription costs here.

Financial education: Union Plus offers a host of resources with tips, tools and calculators to get you on the right track. They include UnionDebtHelp.org and UnionPlusRetirement.org.

Foreclosure prevention: If you're worried you might lose your home, call the Union Plus Save My Home Hotline at (866) 490-5361 any time, day or night, to avoid foreclosure.

Scholarships: Click here to see how Union Plus helps you afford the education and training working families need to get ahead.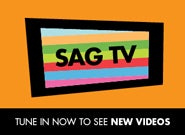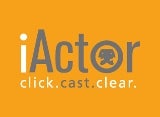 2010 Starts Off Strong
By Jason Tomlinson
South Region Executive
In 2010, we are headed for an unprecedented level of production in Louisiana. To date, almost ten SAG productions have wrapped or recently started production. There are also ten SAG signatory projects which are rumored to be starting within the next few months.
This year, Louisiana attracted the Warner Bros. superhero action project Green Lantern. With a multi-million dollar production budget and a shooting schedule of almost four months, Green Lantern is likely the biggest production ever to be filmed in the state. The project is also notable as being the first project to utilize Second Line Stages in the Lower Garden District in New Orleans. 
Another good sign for members is that production has not been centered in only one area of the state. Productions have been shot in New Orleans, Shreveport, Baton Rouge, Lafayette, and Hammond. It is even rumored that one or two productions may shoot in the Houma area later this year.
Since late 2009, Louisiana has also been the location for the SAG signatory television production Treme, the David Simon helmed HBO series, which will continue filming its first season until the end of April. As mentioned in an article below, Treme is still accepting résumés and headshots. 
I'd like to extend an open invitation to any members who would like to chime in on their experiences on being a SAG member in Louisiana and Mississippi. I would be happy to consider any articles to include in upcoming newsletters. Please feel free to contact me should you have any interest in contributing. Here is hoping that 2010 closes as strongly as it has opened…
IN MEMORIAM
Stocker Fontelieu , 12/14/09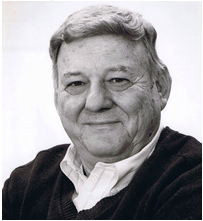 Photo by Arthur W. Tong
By Charles Ferrara, Peter Gabb, George Sanchez, and John Wilmot
Yet another member of the "Greatest Generation" was lost to a world he enriched through his art when New Orleans' legendary actor and director Charles Stocker Fontelieu passed away on December 14, 2009. After serving his country in an infantry combat unit during World War II, where he won the Purple Heart and Bronze Star in the battle for Okinawa, "Stocker" returned to civilian life for a show business career spanning nearly 60 years.
A member of Screen Actors Guild for over 35 years, he was a mainstay for casting directors in search of local talent able to carry their weight in a scene with established Hollywood performers. On the screen, Stocker's ability as an actor was demonstrated over a period of more than 20 years. His resume of nearly thirty projects indicates his range. In Pretty Baby he frolicked with Brooke Shields' nymphet prostitute, and, memorably, in  Angel Heart, alongside Robert De Niro and Mickey Rourke, his character Ethan Krusemark was drowned in a boiling pot of gumbo. Other notable appearances included: The Toy with Richard Pryor and Jackie Gleason; Miller's Crossing with Albert Finney and Gabriel Byrne; Mandingo with James Mason; Obsession with Cliff Robertson; The Big Easy with Dennis Quaid; Cat People; Walk on the Wild Side and many more. His last role was with Martin Lawrence in Big Mama's House II.
Equally at home in radio, television, film, and the stage, Stocker was also a long-time member of AFTRA. For over sixty years his face and voice were fixtures on radio and television, ranging from narration in a Ken Burns documentary to local political ads. A partial list of his radio and television appearances takes up five pages in his biography. Viewers who did not know his name knew him as "Thomas Edison" and "Morris the Peddler" selling furniture door to door from a horse-drawn cart. Like his father before him, Stocker began as a disk jockey on radio, but moved seamlessly into live television in the medium's infancy. He appeared as several characters on a popular local children's program and remained a presence in radio and television commercials until the end of his life. As an actor and director, Stocker performed in nearly every theatre in the New Orleans area.  He served as Executive Director of Le Petit Théâtre du Vieux Carré, the oldest continuously operating community theatre in America, from 1961 to 1985.  He also served in an executive capacity for Gallery Circle and Bayou Dinner Theatres for many years. 
New Orleans' many tourists knew him as "Mark Twain" aboard the Delta Queen riverboat. A consummate professional, he imparted knowledge, whether acting or directing, through quiet suggestions and a shining example. In his final years, he helped discover talent for the Talented Theatre programs in half a dozen school systems in the region.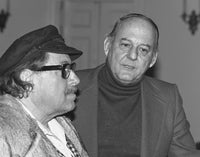 Stocker with Tennessee Williams, 1977.  (photo by Ben Rauch)
His fellow professionals recognized his ability over the years and he won numerous honors as actor and director. He was also the recipient of several lifetime achievement awards. This past June the New Orleans Local presented him with the AFTRA 2009 New Orleans Star Award, the last of more than a dozen awards for his long career.
A memorial service was held on December 19, but his true monument is found in the body of work he leaves behind and in communities around the country who benefit from the work of the persons he touched and taught.
If a tree falls in the middle of the forest, does it make a sound? Yes, for the earth in which it was rooted, the air that surrounded it, the birds and animals who depended on it for shelter and sustenance, will note its passing. New Orleans has lost an oak.
A Message from Treme Casting Director Meagan Lewis
Dear SAG Actors -
I hope that 2010 has been treating everyone well!  From a Saints victory to an amazing Mardi Gras things seem to be moving in the right direction.  We are so fortunate that Louisiana is busy with multiple productions.  RPM Casting is currently casting principal and background performers for the HBO series Treme.  We are set to begin airing in April!  If you haven't auditioned for the show yet don't be discouraged; we are still casting!  Please mail your headshot and resume to:
RPM Casting
843 Carondelet Street
Suite 3
New Orleans, LA 70130
We are also hopeful that we will begin to cast additional projects in the spring, so please send things along.  We will be updating our website www.rpmcasting.com whenever new projects arise. 
I also wanted to say that I am so impressed by the local SAG membership and their caliber of talent!
Thanks again,
Meagan Lewis & the Staff of RPM Casting
PRODUCTION UPDATE
The Guild has been contacted by the following productions about becoming signatory to one of Screen Actors Guild's collective bargaining agreements. Please be advised these producers may not have completed the signatory process at this time. It is the responsibility of each member to confirm that each producer has signed the applicable contract before making an agreement to render services. Failure to confirm the signatory status before rendering services may lead to disciplinary charges being filed. If you have any questions, please contact the office at (504) 585-7324.
New Orleans
Red – Theatrical
Summit Entertainment/Cooper Productions, LLC
Start: 1/10/2010 (3/25/2010 in New Orleans)
Wrap: 4/2/2010
Location: Ontario, Canada and New Orleans, LA
Treme -TV
HBO/Jacko, Inc.
Start: 11/09/09
Wrap: 4/23/10
Location: New Orleans, LA
Casting: Meagan Lewis – RPM Casting
The Big Un-Easy – Theatrical (Documentary)
The Notions Department, Inc.
Start: 2/15/2010
Wrap: 6/30/2010
Location: New Orleans, LA
The Fields - Theatrical
Gideon Productions, LLC
Start: 5/3/2010
Wrap: 6/21/2010
Location: New Orleans, LA

First Wedding, Then Marriage AKA Love Wedding Marriage - Theatrical
First Wedding, Then Marriage LLC
Start: TBD
Location: New Orleans, LA
Casting: Nancy Nayor
Green Lantern - Theatrical
Warner Bros.
Start: 3/1/10
Wrap: 7/1/10
Location: New Orleans, LA
Casting: Pam Dixon
Shreveport

Drive Angry – Theatrical
NuImage/Millenium
Start: 3/17/10
Wrap: 5/14/10
Location: Shreveport, LA
Casting: Nancy Nayor; Ryan Glorioso (Location)
L.A. Art Show AKA Change of Heart - Theatrical
Fox/New Regency
Start: 3/22/10
Wrap: TBD
Location: Shreveport, LA
Butter - Theatrical
Weinstein Company
Start: 4/17/2010
Wrap: TBD
Location: Shreveport, LA
Stay With Me - Ultra Low Budget
Perennial Media Entertainment
Start: 6/5/2010
Wrap: 6/9/2010
Location: Shreveport, LA
Baton Rouge and Other in Louisiana

Blood Out - Low Budget
Blood Out Productions
Start: 4/17/2010
Wrap: TBD
Location: Baton Rouge, LA
The Ledge – Modified Low Budget
The Ledge Productions, LLC
Start: 3/8/2010
Wrap: 4/2/2010
Location: Baton Rouge, LA
The Story of Bonnie and Clyde – Theatrical
Cypress Moon Productions, LLC
Start: 3/15/2010
Wrap: TBD
Location: Baton Rouge, LA/Jackson, MS/Montgomery, AL
Casting: Pam Gilles
In the Land of the Free – Theatrical (Documentary)
The Mob Film Company, LLC
Start:TBD
Wrap: TBD
Location: TBD Louisiana
Mississippi

Rites of Spring – Modified Low Budget
Ghostrider, LLC
Start: 4/7/2010
Wrap: 4/25/2010
Location: Biloxi, MS
Samuel Bleak - Modified Low Budget
Samuel Bleak Productions
Start: 4/26/2010
Wrap: 5/15/2010
Location: Houma, LA
Swamp Shark - Low Budget
Swamp Productions
Start: 4/21/2010
Wrap: 5/11/2010
Location: Lafayette, LA
U-Haul Adventures – Theatrical
William A. Baker
Start: 4/10/2010
Wrap: 6/10/2010
Location: Jackson, MS
Questions Regarding this Newsletter?
Contact South Region Executive Jason Tomlinson
at (504) 585-7324 or jtomlinson@sag.org